WOBBLY LEGS AND A NICE WEEKEND
May 16, 2014
This past Saturday I headed to Limassol in the evening so I could check in and be well prepared for my race at 9 the next morning. The entire weekend was really quite nice, I have to say. I remained until Monday afternoon, just to relax and to explore Limassol. That city has the best souvenir shops out of any that I've been to. I'll get to that later.
There were upwards of 6,000 people participating in this race, which either was a 5K, a 10K, a half marathon or a full marathon. In the half marathon there were 332 participants. To prepare for this race I ate an entire bundle (the bundles here are quite large) of bananas in three days plus two more bananas Saturday night. For dinner Saturday night I had two dinners! One of them was pasta. I was stuffed. That was the plan so I wouldn't need to each much at all the morning of. My preparation and planning paid off nicely. I had no problems during my race and I did way better than I expected! Here's me at the start: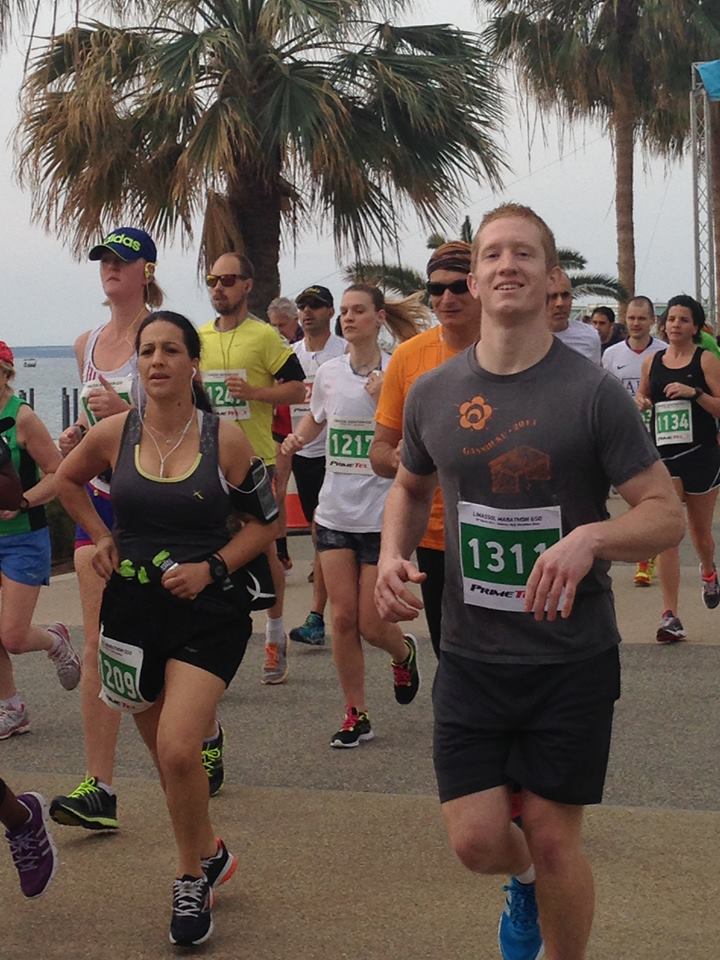 Being my first half marathon I didn't know how exactly to pace myself. To compensate my lack of knowledge, I stuck with three different people throughout the race. Doing that helps to keep me going. The last guy was really nice. After a few kilometers I looked over at him, he gave me a thumbs up and a smile and I said "You're keeping me going sir!" "You…you are keeping me going too!" he replies in a heavy accent. We ran the entire length of the Limassol beach: old port to just past the edge of Limassol and back. Apparently it's customary to begin speeding up after 7 kilometers. Confused, I just went along hoping it wouldn't wear me out. Once we turned around at the half way point, I had no problems with booking it back. I ran by every single restaurant and store on that main street. It's a disappointing beach street, I must admit, because there aren't many good places to eat. Towards the end of the race I sped up even more and I passed one guy and was gaining on another. I could have passed him, but I overheard somebody from the crown cheering him on saying "Go, daddy! Go, daddy!" We were in the middle of the pack, so what kind of person would I have to be to actually pass a man right in front of his young child and family who's cheering him on? That wasn't happening. I wasn't in this for the competition anyway.
I ran the entire way, so the real shock came when I stopped running. My legs were utterly confused and seemed to say "OOMPH, what? Why are we stopping?" and my torso nearly fell flat on its front. I…I didn't know how to walk. Walking was foreign to me, it was unnatural. I ran those 13 miles (21 kilometers) in exactly 2 hours. I weaved my way through the crowd, found a free banana, and wandered. Six others from GLS had run the 5k representing Cyprus.com and I hadn't found them before the race but luckily we bumped into each other while wandering the crowd. Here I am at the end of the race and here we are, posing our exhaustion.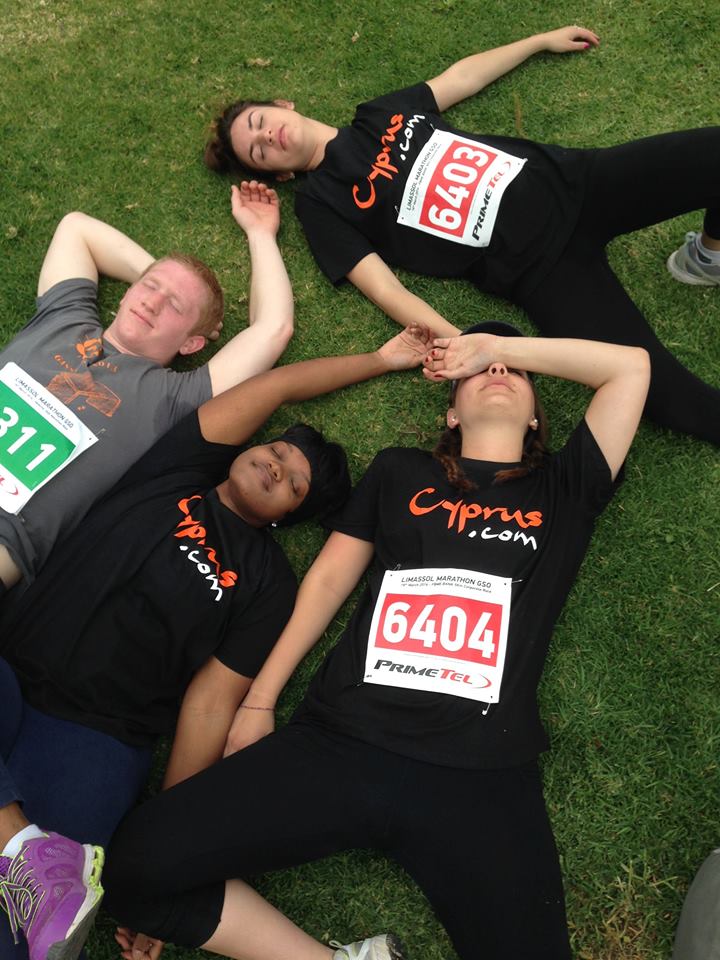 It either hurt to walk or my legs didn't work right the rest of the day. Of course, there was plenty of walking. The rest of the day was really quite nice, though. With the friend that came with me, I had lunch at a Cold Stone Creamery Café. Yea, they have Cold Stone Café's here. I went back to the hotel to nap (a very needed nap) until 5 PM and then after asking the receptionist what there is to do in Limassol, we went to a Cinema to purchase our tickets for the 10:30 playing of Pompeii. We then went to this awesome souvenir shop with a stand of more NUTS! Of course I got more nuts, and we even went back the next morning. On recommendation, we found this novel Italian restaurant that only makes salad, pizza, pasta and desert. I've never seen a restaurant like this before. You get a card on entrance that you just scan after you tell the right chef what you want made. I went to the pasta chef and had some delicious gnocchi made for me. You bet we went back here for lunch the next day. Out of things to do, we headed to the theater and sat there for an hour and a half. We sat in these massage chairs, so I, with my muscles badly needing some attention, slotted that 2 Euro coin. For five minutes my muscles had bliss. I really liked the movie, too. Oh, how I love spending a few days away.
This Sunday I am leaving for Israel and I am staying until Friday morning. I'm fulfilling the offer extended by that nice lady I met in Larnaca a few weeks back. She has my week all planned out for me and is so enthusiastic about having me stay at her home, meet her family and see her country. I'm excited for this, and I'll be writing my next entry while in Israel!