SPRING 2013 ARGENTINA
May 16, 2014
August 21, 2013
June 28, 2013

After nearly 4 months living in Argentina, my time studying abroad has come to an end. The whole situation is bittersweet, as much as I wanted to stay; it was time to come home. I'm leaving behind lots of friends and good memories in Buenos Aires, a place that is sure to stay with me forever. It has become one of my favorite places in the whole world and will forever retain a special place in my heart.
Living and studying in Argentina introduced me to a whole new world of experiences that changed my life. I learned what it meant to try to assimilate to a culture that is much different than my own. I learned how to live with people from other cultures and most of all; I learned how to communicate with limited language skills. These are all things that I rarely considered before being thrown into this situation. Now that I have experienced it, I understand how important these things have been for my own development and value them greatly.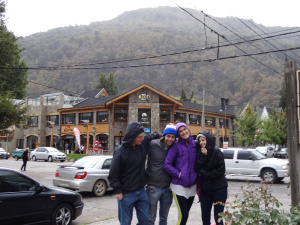 One of the things I'm most thankful for during my semester abroad was the way it allowed me to try new things. Being put into this situation really forced me to come out of my shell and try new things on a daily basis. I was able to try a ton of new food that I had never tried (and would have never tried!). I was able to experience sky diving, tango dancing, and real language exchange; things I would have been hesitant to do before.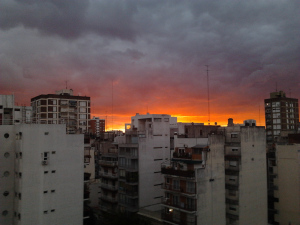 In the end, my decision to study in Buenos Aires was one of the best decisions I ever made. I met so many wonderful people, ate so much delicious food, and learned what it meant to live in another culture. I am going to miss my friends, empanadas, the football culture, the public transportation, steaks and wine, tango music, and nights out in Palermo. All of these are things I will never forget and will forever be thankful for.
June 14, 2013
This past week I had the unbelievable experience of attending an Argentina National football (soccer!) game. It was a world cup qualifying match against the current second place team, Colombia. Although the game ended with no goals scored, it was one of the coolest things I have done in South America and I'm so glad I was able to go.
Since I have been here, everyone has told me how important soccer is to the country and how incredible the games are live. As an average American, soccer has never been a huge part of my life and I don't fully understand all of the rules. I hadn't gotten around to seeing any club games yet so when this chance came up I had to jump on it. The national team only gets together to play everyone in a while outside of the world cup, so this was a really special occasion.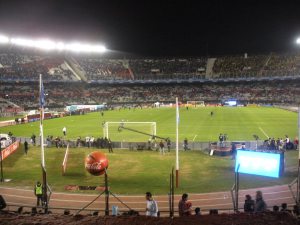 I went to the game with a group of 6 other exchange students and we ended up having great seats in the third row, but getting into the game was a bit of an experience. First the Argentina fans are split up from the Colombian fans to go into different entrances in order to avoid confrontations. After this men and women are split up to go through security in different places. After being funneled into long lines, we went through 2 different security check points where we were patted down and made to give our fingerprints.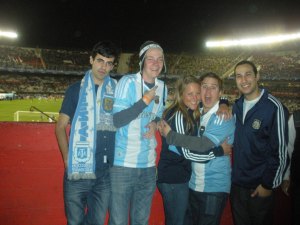 Once we were in the game, we found our seats behind Argentina's goal. The game was played at the River Plate stadium which is one of the biggest in all of Argentina and really close to where I live. The field was huge and the stadium was completely packed with blue and white jerseys except for 2 sections in the upper deck completely filled with yellow, the Colombians. One of the reasons this game was so exiting was because Lionel Messi, one of the greatest players of all time, plays for Argentina. He didn't end up starting because he was injured but after the team got off to a slow start, he came on in the second half to add a spark. He didn't end up doing much but it was still really great to watch him play.
In the end, the game was 0-0 but it was still such a great experience. We got to learn songs and customs that I had never heard or seen. Going to soccer game was a real insight into one of the greatest passions of this country and region. It was also great to cheer on the team and feel like an Argentinean!
June 6, 2013
This past weekend I finally had the opportunity to go skydiving – but there was a catch, it was almost exclusively done in Spanish! I have a long standing fear of heights and was a bit hesitant to go but was reassured by a friend who told me it would all be worth it in the end. He was right, but the language barrier made it much more of an adventure.
The most difficult part of the day may have been dragging myself out of bed at the ungodly time of 6AM on a Saturday (normal Buenos Aires time means coming home at 6AM from Friday night!). We took an hour long bus ride to their countryside in a van packed with a variety of nationalities whom were mostly silent as the adrenalin built up. When we arrived, we were quickly treated to a 5 minute video about safety followed by a waiver that resolved the company of all liability – standard practice (or so we hoped). They told us our instructors would give us more technical instructions one on the plane ride up.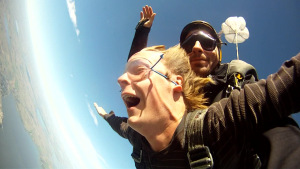 The planes we took off in were quite small single engine jets. They only had enough space for the pilot along with 2 jumpers and their jumping guides. As it was our first time, we were required to jump tandem with guides. This meant we had essentially no responsibilities and could sit back and enjoy the ride. Once we were in the air, we circled for about 15 minutes as we gained altitude on our climb to 10,000 feet. As we got higher, you could see further and further until we could see the Rio Del Plata and Uruguay on the other side. The mood in the air was a bit tense as it was our first ever jump and we were still feeling rather unprepared. About 3 minutes before the jump, our guides started yelling over the plane's engine to give us instructions on how to correctly maneuver and position ourselves outside of the plane. All of these instructions were in Spanish and thus only partially understood by me. I followed my standard practice of nodding my head and saying "si, si, claro".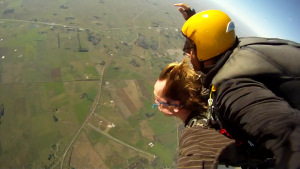 When it was time for the jump, the guide threw the door open without warning and it felt like a tornado with unbelievably loud noises and huge gusts of wind pulling you out of the plane. My friend went first and I could see the fear in his eye, but he went through with it and fell out of the plane in an instant. We were in the back and I was already connected to my guide so we had to maneuver up to the door where I sat nervously. Everything I had learned went blank and I just sat in the doorway. This must be a common occurrence because the guide pushed my hands and legs into place and we went flying out the door.
The free fall lasted 45 seconds but felt like only 5, it was one of the most amazing things I ever felt. I can't describe the feeling but it was incredibly freeing and exiting. Once the cord was pulled, we floated for 4 or 5 minutes and landed with ease. The whole experience was unbelievable and I would recommend it to everyone. It's a great way to battle a fear of heights and bring a little adrenalin when life starts to get mundane.
May 29, 2013
La Bomba De Tiempo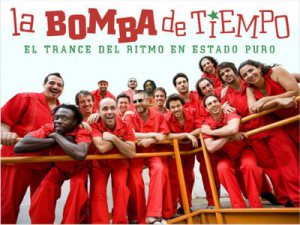 One of the most common things people tell me I must do in Buenos Aires is see La Bomba De Tiempo. I finally got around to seeing this show after months of waiting and it was well worth the wait! La Bomba De Tiempo translates to "time bomb" in English and it absolutely describes this raucous show of feel good dance beats.
La Bomba De Tiempo is a group of 17 drummers who perform shows featuring beats and styles from all around the world. In this group there are a variety of different percussion instruments used from Congo drums to maracas. While I am normally not interested in listening to only percussion, they have an unbelievable ability to get everyone dancing and keep you on your toes waiting for the beat to change. Most importantly, the group knows how to interact with and please a crowd.
Normally the shows are on Monday night and it undeniably the hip thing for young people in Buenos Aires to do. The location is in an outdoor cultural center in a forgotten neighborhood making even the bus travel a new experience. Each week the group has a featured musician who brings something fresh to the performance making it unique for those who frequent the shows.
I can't normally go on Monday nights because of my class schedule, but this past week they celebrated their 7th year anniversary with a Friday night show. Since it was on a Friday night, it started at a typical Buenos Aires time of around 1:30AM. This obscure neighborhood was absolutely packed with young Portenos and foreigner's alike passing through for the show. Once the performance started there was electricity in the air that was indescribable. The show ended up going on until 6AM without pause. I didn't feel tired for a minute while the group was playing but the second the show ends everyone comes back to life and needs to go home and sleep.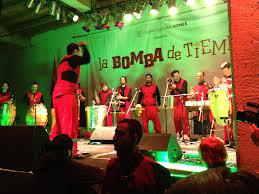 This was my first, and possibly my last, time seeing La Bomba De Tiempo in Buenos Aires. It is a show that is definitely worth seeing no matter your age or music preference because of the atmosphere. In Buenos Aires people use the phrase Buena Onda to describe something that is relaxing and has good vibes, and this phrase is perfect for describing the feeling of La Bomba De Tiempo.
May 21, 2013
When I arrived in Argentina, I knew hardly any Spanish and was incredibly shy about using the Spanish I did know. I had never studied the language before and was quickly overwhelmed by my inability to do some of the simplest tasks. I assumed I would pick up the language quickly living here, but it has come along a bit slower than I had hoped for. I blamed this on the fact that I was taking classes in English and many of my friends were speaking to me in English but these were just excuses. What I needed was a group of friends who would only speak Spanish to me, and that's exactly what I found.
Through couchsurfing.org, I found a group of people who meet up once a week to play ultimate Frisbee for the afternoon. While this group is full of locals as well as internationals, Spanish is the shared language…except for me. The first time I showed up it wasn't easy as I didn't understand most of what they were saying. I learned early on to say "si" and nod my head, this was the easy way out which eventually led to some pretty funny misunderstandings. I later found out that almost everyone that plays does speak some English, but I encouraged them to only speak to me in Spanish.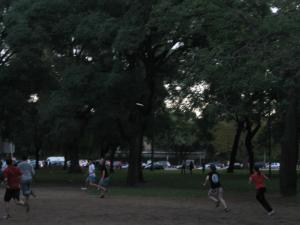 After playing for several weeks, I had mastered the 20 words or so that were important for ultimate Frisbee and I could now communicate on the most basic level. As the semester has gone on, I have learned more and more Spanish to the point that they can see a difference from week to week.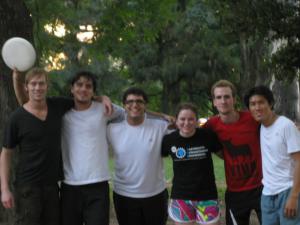 While it is nice to know enough Spanish to know the words of the game, the experience has meant a lot more. I made friends despite the fact that we didn't have a shared language or culture. I am able to learn Argentinean sayings and slang that I would never learn in school or in a dictionary. Although the first few weeks were quite difficult, going to meet this group was one of the best things I have done in Argentina. Sometimes the only way to learn is to through yourself in the fire.
May 13, 2013
Tango Dancing in Buenos Aires
The sounds of tango music can be heard all around Buenos Aires, creeping out of open windows or being performed openly on the street. While Tango is better known as a dance, I have come to know and appreciate the music that accompanies it as well. The tango is an elegant dance and takes a high level of expertise to be performed correctly, because of this, many of the young people in Buenos Aires aren't learning the dance. Despite this, the older generations continue their love affair with tango and have no qualms about dancing where ever they are including in the streets.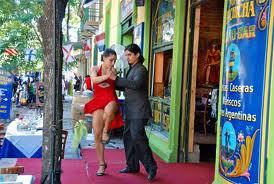 Recently I had the opportunity to go to a milonga, a tango club, here in Buenos Aires. Many of the milongas offer dance classes earlier in the night and then an open dance floor later where you can try out some of your new moves with the locals. The dancing class was actually a lot of fun, however it was extremely difficult. There are so many intricate steps involved that have to be timed perfectly. By the time that the dance floor was open and the locals started showing up, we had learned only the most basic of moves. It was quite intimidating but we all got up and gave it a try, even if it was short lived. In the end, we enjoyed watching people dance tango all night and got an inside look at what Buenos Aires nightlife was in the past.
For me one of the coolest things about tango is tango singers. They are often forgotten behind the dance but it's a really beautiful art form. Tango singers are part singers and part actors and always give great live performances. The songs they sing are often stories about love and romance and they are usually accompanied by a guitar or an accordion. On a few different occasions, I have been to bars that had live tango singers only accompanied by a guitar and they absolutely capture the attention of everyone in the place.
Tango is something that is really unique to Argentina and is thus held highly here. It's really interesting to see how the tradition of tango dancing has survived and prospered when many of the other parts of argentine culture are being affected by globalization. Although it's quite difficult, it's a lot of fun to watch and I definitely recommend giving it a shot if you are ever in Argentina.
May 4, 2013
Weekend trip to an Estancia
This weekend we had our day long excursion to an estancia, the Argentine version of a ranch. We started the day with an hour and a half drive out of Buenos Aires into the countryside known as La Pampa. When we arrived at the estancia, there were fresh empanadas and greetings waiting for us. We had the first 2 hours to look around and see what life was like on the estancia. There was a really cool museum that captured daily life in the rural areas throughout time in Argentina and being that it is a ranch, there were also many horses and we had the opportunity to go riding. It was really fun to get up on a horse and take them on a short trip around a field.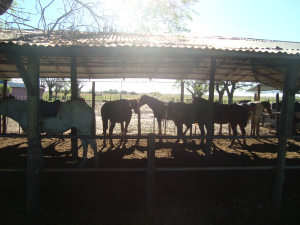 When we were done horseback riding, it was time for lunch. Lunch was a typical asado which is the Argentine Barbeque. The style of Barbeque is much different than in the U.S. and some different foods were offered. We started out with chorizo and morcilla (blood sausage) and were then giving all different cuts of beef and chicken. The meal was fantastic and when we were done, no one could eat another bite. While we were all relaxing and digesting, we were treated to some argentine dance and music. The dancing was typical tango and the music was all across the board to appeal to everyone in attendance.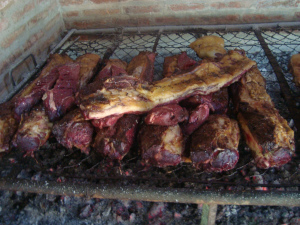 After we had finished lunch, we went outside to watch the gauchos on their horses. Gauchos are essentially Argentinean cowboys who are excellent horseback riders and live and work on ranches and farms. We got to see them do tricks on their horses and play typical gaucho games which included really fast riding while standing up.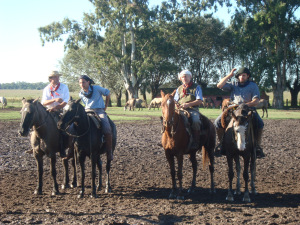 All in all it was a great day on the estancia. Sometimes it feels really good to get out of Buenos Aires for a little bit and breathe some fresh air. The life on the estancia is completely different then in the city so it was really interesting to see how the other half live.
April 26, 2013
MALBA and El Ateneo
This week I was able to visit two of the most famous tourist sites in Buenos Aires, MALBA and El Ateneo. These are two things I would definitely add to my list of "must see" while in Buenos Aires. They are both quite relaxing places and offer an opportunity to see Latin American culture in a different way, through the eyes of art and literature.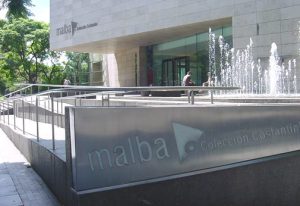 MALBA stands for Museo de Arte Latinoamericano de Buenos Aires and is one of the most impressive museums I have been to. It starts right when you walk up and see the bizarre style of architecture that gives the building its truly original look and feel. There are interesting styles of art from all over Latin America with almost all cultures and countries represented. The museum was only inaugurated in 2001 so it's still fairly new but it's becoming more and more popular. Aside from the art aspect, MALBA acts as a cultural center and provides different activities to educate the public on Latin American art and culture. It would be easy to spend a few days getting loss amongst the diverse art in this museum.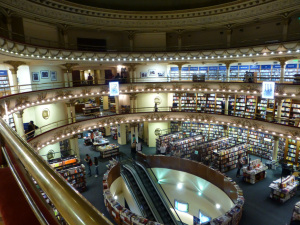 I was also able to visit El Ateneo this past week on a day off, It was one of the most amazing things I have been able to see in Buenos Aires. It is a very old theatre that has now been converted into one of the world's largest book stores. The inside is still decorated like it is a theatre so there are interesting paintings on the ceiling and very cool lighting all around the building. Now it is a pretty common tourist attraction and often listed as a must do while in Buenos Aires. Even if you don't feel like buying anything, you are more than welcome to take any books off the shelves and sit down and read them for a bit. I went with a friend and we grabbed some coffee, found an interesting book, and relaxed in the store for almost an hour.
There are still so many things left to do in Buenos Aires. My list of "must see" things seems to be expanding every day. I have recently hit my half way mark of the semester so I have been inspired to get out and explore more.
April 18, 2013
Packing list for semester abroad
My study abroad trip to Buenos Aires is not my first time studying abroad. In 2011, I studied in Bangkok Thailand and thus had a pretty good idea of what I needed to bring with this time to Argentina. Despite the past experience, I still forgot a few essential things (like always) but I also remembered to pack some pretty useful things. So here is a short list of the things that I am most glad I packed!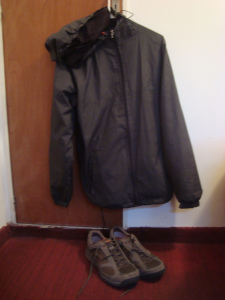 The first thing I am so glad I packed was the combination of a good windproof/waterproof jacket and a waterproof pair of boots. Understandably, some people say that traveling with a pair of boots is more trouble than it's worth but for me, this relatively light weight pair has made all the difference. I walk to school every day and the rain has become pretty common lately, it's nice to have a pair of waterproof boots and jacket to keep me dry for when I get to class. It's also great for traveling.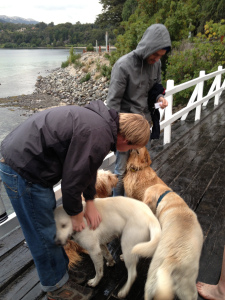 Here I am with my friend Marty and some dogs we met in Bariloche. It rained the entire day and we were thankful to have jackets and waterproof boots so we could continue to explore without having to worry about being soaking wet and freezing.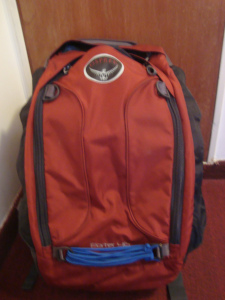 Another item I am so happy to say I brought was a bigger traveling backpack. This bag is 40L and wonderfully designed for backpacking trips and general traveling. Not only did it help me carry things to Argentina but I use it regularly on weekend and road trips. It gives a little more room than a typical school bag and offers more features like a padded support belt and extra pockets. All of my friends who didn't bring one said they wished they had gotten one before they came.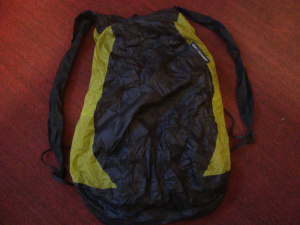 Another cool thing I brought that has saved me a lot of hassle is this fold up backpack. Above is a picture of the bag folded up with a banana for comparison.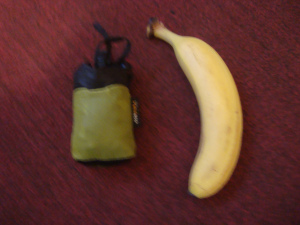 This is what the pack looks like when it's unfolded. This has been so great because it can fold up so small as to not take up any room when traveling. I use it for carrying my books to school and when sightseeing around the city, when im done with it I can just fold it up and put it in my pocket.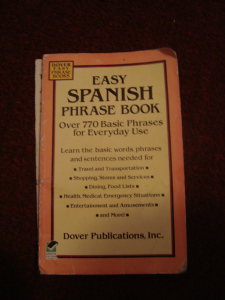 The last thing I am really glad I brought was this Spanish book. As you can probably see in the picture, this book has been well used. I can't tell you how many times this book has come in handy for random things around the city. Learning a new language takes some time so it's nice to have a language book to bridge the gap while you learn.
April 10, 2013
Benefit Concert and San Telmo Sunday Market
As I briefly mentioned in my last post, there was a huge rain storm that hit Buenos Aires and the surrounding areas last week. My neighborhood got hit pretty badly and we lost electricity and water but it was nothing compared to the city of La Plata. In La Plata, there were over 50 deaths and a whole lot of destruction left behind by the storm. This is why this last week Buenos Aires has been pulling together to provide assistance and supplies to those families in La Plata. On Sunday, I was able to attend a benefit concert for those affected by the floods. Many big names in Argentina rock played this free outdoor concert and the fans were clearly exited.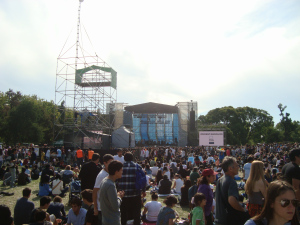 People were coming from miles around with big bags of clothes, food, and hygienic supplies to be loaded onto big trucks and shipped off to La Plata. It was a really cool thing to be a part of as everyone was pitching in to sort donations, load trucks, and organize volunteers. There was even a guy taking donations for pictures with his Llama!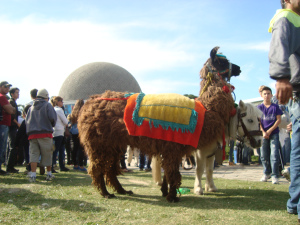 I also had the opportunity to check out one of the biggest outdoor markets in Argentina, the San Telmo Sunday Market. This market goes further than the eye can see and offers just about anything you could ever imagine. There were all sorts of antiques, musical instruments, trinkets, Mate gourds, and souvenirs for tourists. Aside from the wide array of things, it's a really fun atmosphere to spend a Sunday afternoon.
The market is also known for its wide array of food. You can buy all the normal things there like empanadas, roasted nuts, fresh squeezed orange juice and so on but there are lots of unique items also. I was able to find my first real burrito in Argentina from a man on the street and also ate this churro filled with dulce de leche and covered in chocolate!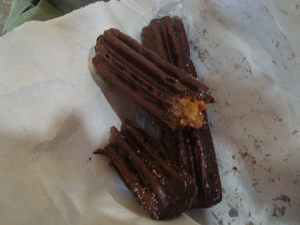 April 2, 2013
This past weekend Argentina celebrated holy week which combines multiple holidays into a 6 day weekend inspiring everyone to do a bit of travelling. Me and some friends decided to rent a car and drive to Bariloche Argentina! Bariloche is famous for its beautiful lakes and its huge mountains as well as its craft breweries and chocolate stores. The drive from Buenos Aires is almost 20 hours so we spit it up over the course of 2 days each way. We were surprised by how much of Argentina is a desert like climate. The middle of the country is very hot and sunny making it quite different then other parts of the country. When all was said and done, we drove from the east coast of Argentina all the way to the western border with Chile and saw multiple distinctly different climates and settings.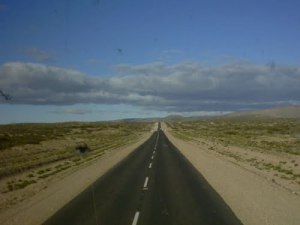 Once in Bariloche we only had 2 days so we tried to pack in as much fun as possible On the first day in Bariloche we went on the seven lakes road circuit which combines stunning views with small hiking trails and crystal clear lakes. The trip took us almost 12 hours to complete because we insisted on stopping to see every single one of the beautiful lakes. One of my friends even jumped into a lake, a bit to cold for me at this time of year!
After the seven lakes circuit, we explored the town a bit and saw some of the craft breweries and sampled some local chocolate. We were lucky enough to be in Bariloche during Easter because the city created the world largest chocolate Easter egg and we got to try a bit for free!
On our second day in Bariloche we rented some bikes and did a bike ride through the mountains. This was quite difficult because none of were prepared for some of the steep hills, but it left us with some more amazing views. By the time we got back to the city and started looking for a hostel, everything was booked because Easter is a popular travel time. We had brought a tent with us so we figured we would try to camp out. We found a lovely place next to a huge lake and set up our tent. Patagonia gets quite cold at night time so it was a bit of a struggle to do much sleeping but it was still such an amazing experience to sleep outside in such a breathtaking place.
March 26, 2013
Punta Del Este
This past weekend we went on our first GLS trip and it was an absolute blast! We went to Punta Del Este in Uruguay, a quite famous tourist city known for its never ending beaches and laid back atmosphere. We left on a ferry to cross the Rio De Plata early in the morning, around 6 AM, and after a short bus ride got in to Punta Del Este around 2 in the afternoon. This city is incredibly crowded and popular in the summer time so thankfully right now in March the summer has ended and autumn is moving in, this meant almost no crowds and the beach to ourselves.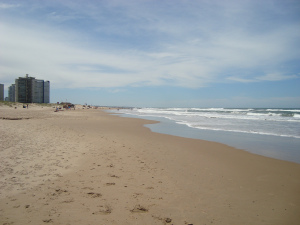 The hotel we stayed at was really nice and in a unique part of the city. We were located downtown so three blocks south of us was the ocean and the three blocks north of us was the River, we were right in between. The ocean had great waves and people were surfing and swimming up the entire beach while the river side was rockier so not many people were swimming but there was a great harbor and lots of benches overlooking the scenic river.
As part of our trip, GLS provided a bus tour that showed us many unique aspects of the city we would have never otherwise seen. We got a history lesson on the city and drove across the entire area seeing monuments, celebrity neighborhoods, and an art Museum. The art museum was in a quiet neighborhood and had an impressive collection featuring some of the most famous artists in the world like Salvador Dali.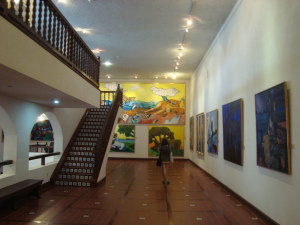 Finally, to end the tour we drove off to a point of land that juts out of Punta Del Este to see the sunset. The view was amazing and the neighborhood surrounding the area was just as spectacular. It was a really great way to end the day and reflect on the trip it had been.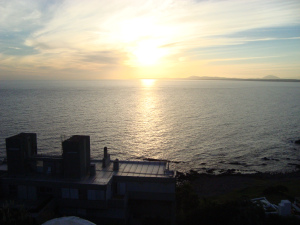 The whole trip was a great way to take some time out of the hectic city that is Buenos Aires. Punta Del Este proved a stark contrast to B.A. and gave us a better understanding of slow paced Latin American life. It also offered us an opportunity to get out and see another country which was something everyone wanted to do. Now I cannot wait for the next GLS trip!
March 16, 2013
Getting to Know Argentina
The last few weeks have proven to be an exciting time to be in the country of Argentina with many news stories captivating the entire world. Earlier this month, the president of Venezuela, Huge Chavez, who happened to be one of the closest allies of Argentina, passed away. More recently the first ever pope from Latin America was chosen from Argentina and the Malvinas (The Falklands) had an unofficial referendum about their future. These events have really allowed a closer insight to what Argentineans care about and how they define themselves.
Hugo Chavez Death was quite a big news story here. Many middle class Argentines feel a deep connection with populism and the president of Argentina, Cristina Kirchner , declared there would be three days or mourning and left immediately to be in Venezuela. Although the culture in Venezuela is radically different than in Argentina, it became clear to me that Latin America does have some defining values that link it together as a region.
A more celebrated event occurred recently as an Argentinean was elected to lead the Roman Catholic Church. Jorge Bergoglio is the first non European to be elected pope in 1300 years, and in a country made up of roughly 90% Catholics, that's a big deal! No one was really expecting this to happen but people here have been overjoyed. Church bells rang all day and there were visibly more people attending churches and ceremonies. It is such a big deal here because in many ways people still see themselves as European and this helps to validate their roots and sense of identity.


Lastly, the British held a referendum to determine the fate of the Malvinas. The Malvinas, more commonly known by the British name "The Falklands", are a group of Islands off the cost of Argentina. The British currently control the Malvinas as a colony but do so without consent of Argentina who also lay claim to the islands. Only three people on the Islands voted to rejoin Argentina but this is in large part because the British moved citizens to the islands in order to populate it. While this small set of Islands may not seem important, it is a very emotional thing for many Argentineans. They see the islands as part of their country and are not willing to compromise them. In almost every city in Argentina you can find graffiti like below translating roughly to "British Get out of the Malvinas!". Although the referendum was not recognized by any international groups or organizations, it still angered large parts of this country. Argentineans are proud people and seek to reclaim what they staunchly believe is theirs.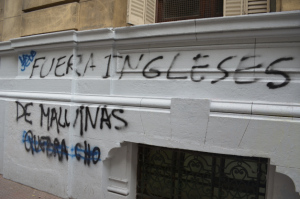 March 11, 2013
Hello Buenos Aires!
It has been a little over one week since I arrived in Buenos Aires but it feels as if I have been here a month. I have been so busy with GLS orientation, visiting tourist sites, and sampling local cuisine that I have had hardly any time to stop and reflect on the beauty of Buenos Aires. It is an enormous city with vastly different neighborhoods (called "Barrios" here) that could justifiably be thought of as different cities. The diversity of the neighborhoods is stunning and truly caters to every type of person you could imagine. I am lucky enough to have been placed into a home-stay in a quiet northern neighborhood called Belgrano with many sidewalk cafes and large green areas. One common thread across the city seems to be a very European style of architecture always featuring ornate terraces with beautiful views.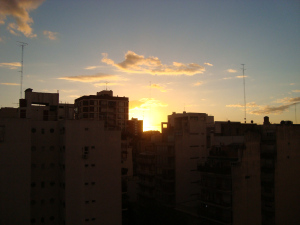 In my free time, I have been eating my way around the city exploring different neighborhoods one at a time trying to get a feel for the different areas. One of my favorite neighborhoods has been the upscale Recoleta area. It is full of classic looking buildings scattered between more modern residential and office buildings and features one of the most famous sites in the city, La Recoleta Cemetery. This cemetery was opened in 1732 and now plays host to many of the most rich and famous Argentineans of all time such as former president Eva Peron. However the cemetery does not have grave stones, each grave site features a small building completely dedicated to one person or one family often with a chair for visitors and many religious relics lining the inside of the building. I had seen pictures of this cemetery before going however I can safely say no pictures can do it justice, there are rows upon rows of these small buildings each with unbelievable history and individuality. To be honest, certain parts can be a bit creepy but it remains one of the most unique places I have seen so far.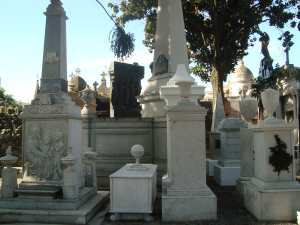 Another one of the most interesting neighborhoods I have encountered has been La Boca. This is a true working class neighborhood and home to one of the most famous football clubs in the whole world, La Boca Juniors. This neighborhood has a reputation of getting a bit rough at night but during the day it is renowned for its brightly colored buildings and its world class Tango dancers performing on the sidewalks. You can feel the passion of the Boca natives in just about everything they do, especially if you get them talking about football (soccer for the Americans!).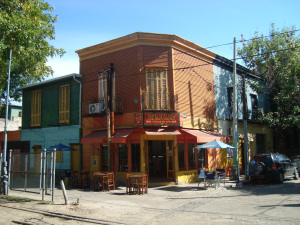 I have only begun to explore the different neighborhoods here but it has become clear that I will be busy for quite some time…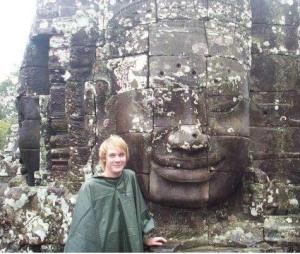 Hi, my names Jason and I'm a twenty something Chicago native living in the great city of Buenos Aires this spring. At home, I attend Illinois State University where I study Political Science and Environmental Studies. I have a great passion for adventure and travel and have spent time in Asia and Europe as well as all around North America. I'm finishing up my last semester of college here in Argentina and trying to find a way to break into the tourism industry after graduation. In my free time I enjoy brewing beer,playing ultimate frisbee, and reading travel blogs to help plan my next trip. I can usually be found outside climbing trees or hiking in the woods outside of Chicago. I am starting off this journey with very little knowledge of Spanish language or Argentinian culture and hope to keep track of my experiences and growth through this blog.