MUST-SEE (LOCAL) PLACES
May 16, 2014
Hey again! This past week has been a blast. It started last Thursday with a scavenger hunt planned by Global Semesters. Even though our group didn't win, we had so much fun and learned where a bunch of things are in Nicosia. This is a picture of Gabby, Lauren and I outside of the store where you buy minutes for cell phones.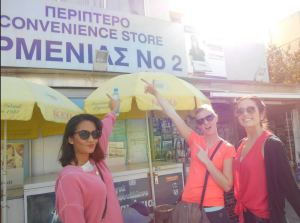 Later that day a bunch of us went to the Old City and crossed the border to the Turkish part of Cyprus for the first time! Everything is super cheap over there, and the currency exchange rate really helped (1 Euro ~ 3 Turkish Lira). As we were walking near the border, there was a sign on the left that said "GIRIS – ENTER". We thought it was implying that the girls were supposed to enter on the left, so the girls stayed to the left while the guys waited on the right. After getting some funny looks from the soldiers, one of them informed us that "GIRIS" is the Turkish word for enter…so the sign wasn't telling the girls to enter, it just was just saying enter in general. That was a little embarrassing, but at least now I'll never forget how to say "enter" in Turkish.
Thursday was an early night for us because Friday morning we had a GLS trip planned to Troodos (one of the mountain regions in Cyprus). It was a little chilly up there, but it was such an amazing experience. We went to an abandoned hotel that is rumored to be haunted. The floor boards were all cracked and the staircase made funny noises when we went down, which all added to the experience. This is a picture of the inside!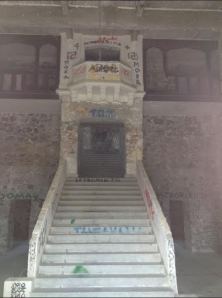 From the front of the hotel you can see a big part of the mountainside. I've never seen mountains with so much greenery on them before, and it was not at all what I expected. When you search for Cyprus in Google images (which I did many, many times before I left the US to brag to my friends how awesome my semester would be), 99% of the pictures are of the beaches. It was really cool to see that there is more to Cyprus than what I anticipated. This is just part of the very extensive mountainside.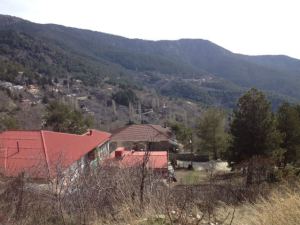 Even though the mountains were unexpected, the manager of the restaurant that we went to for lunch afterwards was exactly what I pictured an older Cypriot man to look like. He had fancy facial hair and all. Me and one of my roommates, Lauren, couldn't resist showering him with affection because he was way too cute. Look at that face. You wouldn't be able to resist, either.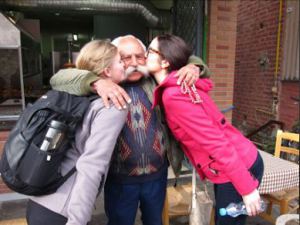 After lunch we had a little time to explore the village in the mountains. There was a really cool spiral staircase that led down to a brook. The staircase was a little shaky and I thought I was going to fall through a few times, but Colby snapped this awesome picture of me while I was going down…so it was worth it.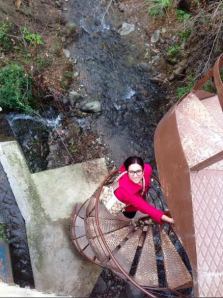 The water in the brook looked even clearer from underneath, and I got to walk along the edge and check out the area. This was lesson number one on my study abroad adventure: do what makes you uncomfortable!!! The best experiences are the ones that are sometimes petrifying. Obviously there are exceptions to this rule…you shouldn't do anything that's flat out stupid or dangerous. It's also important to point out that I said do what makes you uncomfortable and not do who makes you uncomfortable. We learned last Friday that men here are very into American women, so it doesn't hurt to be extra cautious so that you don't get taken advantage of. Friday night we went to a club called Momo which was a lot of fun! We were told that Europeans get more dressed up than Americans do, so we all got pretty dolled up. This is a picture of Ariana, me, Lauren, and Val before the club!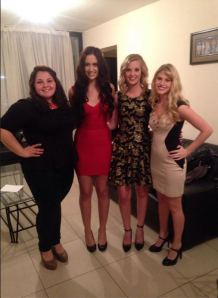 Friday night was great, but by Saturday we all wanted to relax a little. Alex found a nice Greek restaurant that had live music and dancing, so we thought it would be fun to check out! Although the taxi driver dropped Ariana, Lauren, Jessie, and me off at the wrong restaurant and we had to walk to find the other place with no GPS and no Google maps, it was still a great time. The food was delicious, and even though it was a meze, it was very different from the Cypriot meze we had the week before. The best part of the entire experience was the Greek dancing. We were all really bad at it, but we had so much fun trying. We got some locals at the restaurant to come dance with us, and even the owner joined in at one point. This is a picture of me and Alex trying to show off our moves.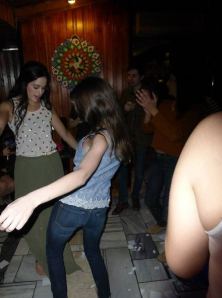 Greek dancing wasn't the only thing I learned how to do this week! Lauren taught Ariana and me how to tease our hair. A few people were surprised that I didn't already know how to do it, since obviously everyone that lives in New Jersey dresses like Snooki and rocks a poof (kidding). Anyway, it was fun learning and I think our hair all turned out great! I'll let you be the judge of that, though.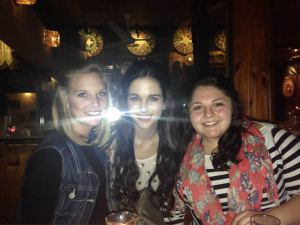 In addition to learning new hair styles, my roommates and I have also been learning how to cook! Our plan is that each of the four of us will cook one day (Monday-Thursday) for everyone, and then we can go out or do our own thing on the weekend. So far we've had enchiladas, potatoes stuffed with bacon, broccoli, and cheese, and pork chops with corn and baked beans. The enchiladas were Greek-style…we used pita bread instead of tortillas because it was easier to find.
Apparently we weren't the only ones that substituted pita bread with regular bread. When we went to a non-denominational, English-speaking church on Sunday (which was awesome by the way), the bread and wine ended up being pita and grape juice in a shot glass. It was very Cypriot, and it completely made my day. I wanted to take a picture to put in this blog, but I didn't want to be that girl whipping out my cell phone in church…although I don't think anyone would have minded, because the service was very laid back. We all had to stand up and introduce ourselves which was slightly awkward, but the people were very welcoming and friendly. The sermon was also fantastic, and I'm definitely looking forward to going back this Sunday (if anyone on this program is reading this and wants to join, message me)!
I feel like I should probably mention something about school since classes started this week. The professors here are awesome! Classes seem to be structured in a very different way than in America, and so far I really like them. This is also probably because the courses I'm taking are pretty different from the ones I am used to taking at home. At Stevens (my home university), it's not unusual to take 23 credits of all engineering classes per semester (and some of those classes are graduate classes). Here, I'm taking 12 credits with 2 humanities courses, 1 business course, and 1 engineering course. I really love the humanities classes, because they're perfect for the environment I'm in. One is about nationalism, which is particularly interesting given that we're living amidst the Cyprus conflict. The other is about politics in the Middle-East, which is perfect since Cyprus is geographically considered part of the Middle-East and there are a ton of Middle Eastern students studying at UNic. At first I felt lazy only taking 12 credits, but I've been keeping busy. My friends and I want to start some clubs on campus, I've been writing this blog, I want to learn how to speak more Arabic, and I want to learn how to cook. I've also been getting to know people from other cultures, and even though I may not be focusing on my technical skills as much this semester, I'm definitely gaining unbelievable soft skill knowledge (which is just as valuable in the workplace). If any engineers are reading this and considering study abroad, DO IT! Even if the courses may not be exactly the same as what you would take at home, I promise it will be an infinitely valuable experience in making you a global citizen and a relatable employee. In one of my classes there are students from the US, Cyprus, Jordan, Mongolia, and Japan. How often do you get the experience to analyze global issues from so many different points of view? Also, in my Middle-East Politics class, I jokingly suggested to the professor that we take a field trip to the Middle East to supplement our classroom learning experience. He agreed, and now we are planning one. Real life knowledge and experiences like these aren't the types of things you can get from a book, and I'm so grateful for all I have been learning here so far. I'm really excited to keep learning and exploring in the future! :) I'll keep you posted every step of the way.
TBC (To be continued),
TBC (Tiffany Brielle Caroselli)