MEET MICHAEL DURFEE – CYPRUS BLOGGER
May 16, 2014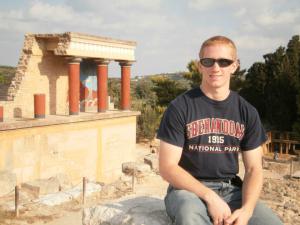 Hello! My name is Michael Durfee and I attend a little community college called TC3 in a town near where I grew up. Attendance there is only the first small step. Next year I'll be transferring to a four year institution to major in ancient studies. I have no doubt this semester in Cyprus will benefit my studies of the ancients.
For the last six and a half years I've worked at a dairy farm milking cows. I have a particular fondness for cows and I even have a shirt that says "Some of my best friends are cows." It's not as crazy as it sounds. Besides cows, I have a large number of interests and commitments. I enjoy kayaking, bird watching, jogging, and many other outside activities. I have a growing collection of nearly 900 books that I quite enjoy reading, I actively train and assistant teach as a black belt in Seido karate, and I volunteer at a local Paleontological museum.
I have the travel bug. I've been fortunate enough already to have traveled to Belize, Greece, Turkey, Italy and Vatican City in the last four years. I have every intention to travel and be immersed in the world, as I have immense ambitions to see and learn so many different things and to earn my intercultural competence. I am elated to have this opportunity in Cyprus! Through my writings you will not miss knowing what this country has to offer.