JUST LIVE!
May 23, 2014
If you're a student here in Cyprus or just somebody who's looking for a long vacation, you can always find something to do here. It may be one of the smallest countries in the world, but it packs a lot. First impressions may be based on the ugly, exposed hills that dot the entire island and the general lack of greenery. Or perhaps you'll find the rowdiness and late-night habits of the Cypriots to be annoying. But just settle in, make proper adjustments and appreciate this island for the richness in which it truly can bathe you. Don't piss away your time here once you realize the alcohol is cheap and the nightlife is well-developed. It's foolish to visit Cyprus and know nothing but where the clubs and bars are located when you leave. Come here to explore Cyprus, and not to exploit all of its booze. Wonder which delicious dish you will try next instead of wondering where next to party. Think of all the meals you will miss, the potential best meal you've ever had, if you spend half your time partying and sleeping off a hangover. If on your last day a Cypriot asks you "How do you like Cyprus? What was your favorite part?" I'm certain he or she would prefer to hear a more endearing answer. Instead of "Oh, the cheap booze and the clubs, man. One night, I got so drunk at club Teez that I lost my friends, tried to stumble home on my own but I threw up all over the sidewalk and fell asleep on a bench" you can tell him that "Oh, I love Paphos! All of it! I especially like that nice sea-side trail leading to the Lighthouse bar and café where I can satiate my appetite and my thirst. Also, there's this wonderful restaurant called Zeus with the best traditional food and an American-loving waitress up on Tomb of the King's road. Those are fond memories." So maybe if you get out and explore the island you will find…
That on Sunday afternoons you can find the kindest Muslim holy man at the Hala Sultan Tekke mosque by the Salt lake in Larnaca. He'll let you watch and listen to his prayer and invite you to join in and give you a real blessing to pass on to your family and friends.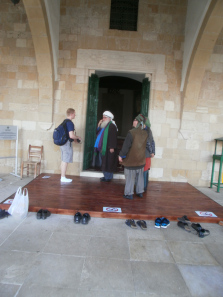 You'll find that running along the edge of that Salt lake is like running in a salty oasis in the desert. Hot and humid, longer than you had thought (with plenty of deceiving dead-ends), stinky, induces much sweat and you have a thick layer of salt on your skin after your sweat evaporates quickly. In Larnaca you could also meet a very nice Israeli lady who will share her bread and tzatziki sauce with you while waiting for a bus that will never come. Later she'll invite you to stay at her home in Israel while you have a magnificent and awareness-arousing time exploring the tiny country. And you'll even bring her two jars of tzatziki sauce that you made yourself. Larnaca can also provide a meeting place for your new friend you met who's also from America. This meeting place is located in a boat docked at the marina and is called the Aquarium Bar Café. It's run by a very nice British man named John. This new friend of yours could also be an American who has been living in Cyprus for the past eight years and self-taught himself Greek in one year. He could be a friend who will go out to eat with you when you visit Larnaca, who will drive you to the airport when you have a flight to catch, and who may even drive you all the way back to Nicosia when you realize you misread the Intercity bus schedule and you've missed your bus by two hours. You'll also realize that Larnaca is very culturally active every Sunday, with mini carnivals, flea markets, musical festivals, etc. And you'll also notice that that fish restaurant down by the fat golden Buddha actually serves great Moussaka at a reasonable price.
You may learn that Nicosia has a huge farmer's market at the Oxi (pronounced Ohi) square parking lot, right outside the old city, everyWednesday and Saturday. This market has dozens of stalls devoted to the best produce around, as well as homemade breads, pastries, halva, nuts, wine, juice and other strange things. You'll notice they have the best clementines and oranges you have ever tasted.
Perhaps you'll make your way to Ledras street in the old city and appreciate it for what it is and enjoy the taste of the best Italian food in town at Il Forno. Maybe you'll even get to the end of Ledras street, whip out your passport, fill out a little visa paper to get it stamped and then cross over to the "other side"; the illegal Turkish country called the Turkish Republic of Northern Cyprus (or TRNC for short) recognized as a separate entity by nobody but Turkey and Azerbaijan. Over here you could make your way over to their Old Bazaar and other nearby shops to buy some nice, typically Turkish things. You would also be remiss to not try a Durum while you're there and realize it's a lovely variation on Greek gyros. You won't overlook the brand names on products over there, either, because chances are they are fake. Gucci isn't Gucci and Swatch isn't Swatch. Back on the other side you will learn there's a street that runs parallel to Ledras which is just as exciting. It has some very nice shops, good restaurants (even a supermarket at the far end) and even a stand of New York City Donuts that has you wishing you could try them all. Maybe you're feeling extra adventurous and you wander deeper into the center of the old city. You may come across the most highly recommended meze restaurant in town called Zanettos. Even further in, you might find an unexpected place; a restaurant called Casa Vieja where you try your first Spanish Tapas. The food is so delicious, the staff is so friendly and helpful and the overall atmosphere is so welcoming and comforting, you are saddened that you found this place only days before your departure, ousting and possibility of return.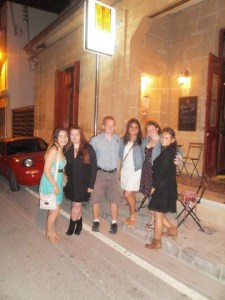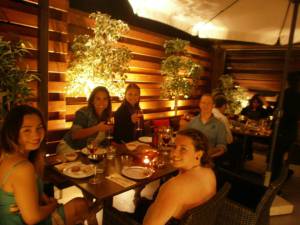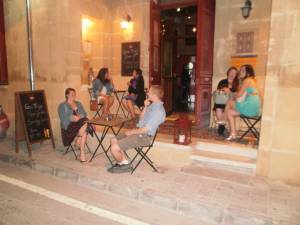 If you want a little modern, you'll go up to the information desk at the bus station and say "Yia sas! Which bus can take me to the Mall of Cyprus?" They'll tell you to take the 158 bus and request a stop at General Hospital. From there you'll walk past the massive IKEA store and use Entrance 1 for the mall. Maybe here you'll go see a movie while sipping on your "Wow" size fruit smoothie you got from the Squeeze Juice Bar. But before your movie, because you got there an hour before it starts, you spend 45 minutes glued to the TV screen in the Public store because they've got the Hobbit: Desolation of Smaug playing. So what if you've already seen it?
Next you've decided to go to Ayia Napa. You spend half a day at Glyki Nero beach with friends, playing games, cliff jumping for the first time and cave exploring.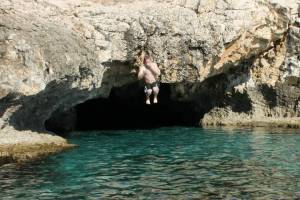 After that maybe you'll go to the main street of Ayia Napa, a street filled with countless shops and restaurants, and buy some nice souvenirs. But you won't eat here, because these are all extremely touristy restaurants with low quality food. Instead, you learned at the check in to your apartment-hotel called Green Bungalow that the owner used to work for the Hard Rock Café previously in Nicosia. Being so, he has brought Hard Rock's menu to his hotel and he's darn proud of it, as he should be, because he serves some quality food. What a happy coincidence that you actually found the vestiges of Nicosia's bygone Hard Rock Café! And you thought your chances were null after seeing the ruins of the building in which the Hard Rock was hosted! But in addition to the vestigial Hard Rock menu, they have a great selection of drinks and the most inappropriate yet hilarious cocktail names that makes futile any resistance to trying one. Now perhaps tonight you wish to have a great time in the nightlife with your small group of friends, because you know you'll all take care of each other.
The next day you can't resist the pull of the Ayia Napa Waterpark. It's called Waterworld, it is Greek mythology-themed and you learn it tries to emulate a waterpark in Orlando, Florida. The original owner is from Orlando and the staffs get all excited to find out they have a small group of Americans visiting their waterpark. Now, maybe 35 Euros is a lot to charge for a waterpark only a third of the size of the typical American ones, but you decide it's totally worth it and you can't leave this island without experiencing Waterworld. So you try every single slide they have, and even wait around an hour for one slide to open because it opens at 2 PM and not 10 AM like the others. You ride Atlantis on a three person tube, you take the slide where you actually go down head first on a sled, you go down all the body slides and hurt your butt because the seams on the slides aren't smooth enough. Maybe you're scared of heights and that feeling of falling, but those silly things don't stop you from going on the Heracles slide that zips you down so fast you can't breathe or the slide with a sheer drop at the end. You can't resist and you go into the kiddy section of the wave pool and wait for the giant bucket to dump on your head. Twice!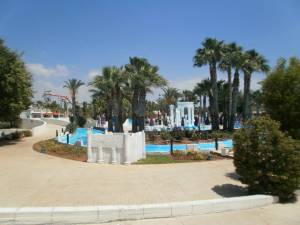 Next to Ayia Napa is a smaller town called Paralimni and you're heading there. Why? Because you met this blasphemous 77 year old man who talks your ear off with knowledge and insight that expands your horizons and tweaks how you see the world. He introduces you to some new recipes to try. He's a man who has befriended, dined, laughed and partied with princes. He has traveled the world with the British Royal Navy and with his hard-earned riches and tells you his stories both inspirational and revolting in their content. He has a piece of intestine for a bladder and has even experienced clinical death. He has two dogs, seventeen cats and a mind still at 25. And your last day with him he unwittingly imprints a quote upon your mind that tailors so perfectly to the way you like to live your life. "What's better to be in a hurricane; a great big tree that uproots and blows away or the grass which merely flattens to rise again?" It's a lesson in humility. It's a tactic of survival.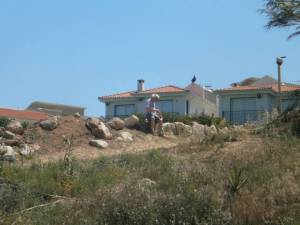 If you go to Paphos you could see that it's a very lovely place. You may be lost at night and ask a taxi driver which hotel to stay at. He recommends you the Kings Hotel and even calls them for you and says you're head that way. He points you up the hill and says "follow that road until you get to Tomb of the Kings Road and turn left. Kings hotel maybe 500 meter. Go straight, then right! 20 minute! Tell them Yanni sent you." Little do you know this hotel is right across from the meeting place you set up with Zephyros Adventure Travel for your rock climbing jaunt the next day. While you're up in the Akamas climbing a great rock, you get the rare opportunity to watch and adore an old shepherd and his flock. You try a new sport and conquer your fears this day and you mountain bike all the way down through the beauty of the Troodos mountain range the next, with a little rain and cold to add character. The sport leader is a well-educated and generous British man who gives you your first pair of skiing pants to wear for the mountain biking. You're going to keep those pants. You love them.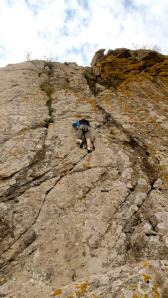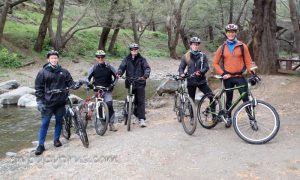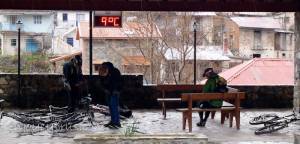 During your stay in Paphos you make the greatest find; a quality traditional restaurant with Greek cuisine, called Zeus, on Tomb of the Kings Road. You order your favorite dish; zucchini balls, dipped in tzatziki sauce. You're the only one in this beautiful, open restaurant and the waitress loves that you're an American and not British. She loves Americans, so you have a lovely conversation with her and later with the owner who has a daughter your age studying abroad in England. You can savor your dish because you're in no hurry. Later you decide to check out the Kings Avenue Mall. Here you feel such comfort because it feels a little like home and you decide to see your first movie while abroad. You buy your ticket, kill time wandering around and figure you'll want something nice to eat for dinner after the movie, even though it'll be 10 PM. So you go to the bakery across from the cinemas and make a pinky swear with the pretty Cypriot girl to save you one of those sandwiches with feta cheese on it. Perhaps the next day you make your way to the Paphos zoo and get called up to hold a beautiful specimen of an owl at the bird show. The lady tells you it's a nine-year-old African Eagle owl that had a part in the first Harry Potter movie. Your day was made then.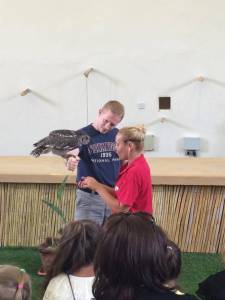 In Kato (lower) Paphos, where the harbor is, you may also come across a great pizza place called Pizza Express. You get the D'Andrea pizza. With your stomach full, you walk it off along that lovely seaside trail that starts at the Paphos castle. You walk a ways until luck shines upon you; you find the Lighthouse bar and café. Awfully thirsty, you sit and have a few juice boxes and befriend the café dog, David.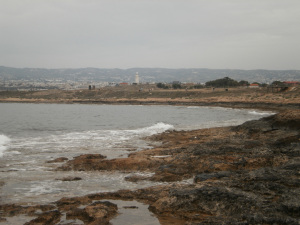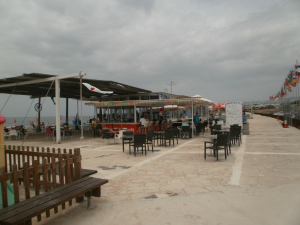 The last city you explore is Limassol. You learn that this is an increasingly popular place, always improving, expanding. With the loss of half of Nicosia in 1974 and the complete loss of Famagusta, Limassol has taken on a new role. Here is where you experience Carnival for the first time, and you love it so much you're inspired to try some of the most famous Carnivals in the world: those of Rio de Janeiro and Venice, among others.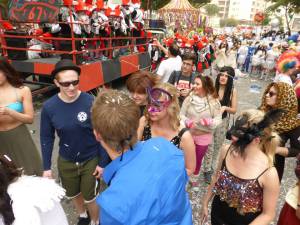 Perhaps later you come back and run your very first half marathon, placing 186th out of 330 with a time at exactly 2 hours. You're pretty happy with yourself. Plus, you got a shirt and a free medal. Included t-shirts and unexpected medals improve every event. Your love for Limassol grows after such important events.
For dinner that night you go to an Italian place with a unique way of service. It's called La Boca and you found it in the Columbia plaza, not too far (an extension of, actually) from the pedestrian street with some great souvenir shops and the best nut shop ever. From now on you only buy your nuts from The Nut Cracker House in Limassol. Now you're by the old port roundabout and you see something you have never before seen: a Cold Stone Creamery Café. You don't miss the chance to have a nice sandwich and ice cream here. Perhaps even twice…
Along the way of your rich travels, you stop by a few Zorbas bakeries and try the Tahini pies. They taste strange at first, but you quickly get addicted. You'll also be happy to buy a loaf of fresh, whole wheat bread, baked in the traditional round style. You're sure to ask them to slice it.
And for many of these adventures you have friends who are happy to be sharing the experience. Perhaps one night you even have some fun and spontaneously partake in your own photo shoot, which also includes the dog found on the streets that your friends took in and have been caring for.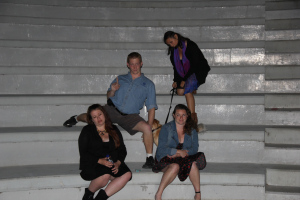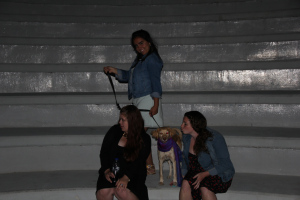 At the end of the day, you can walk away into the darkness with your head held high and a good friend on each side.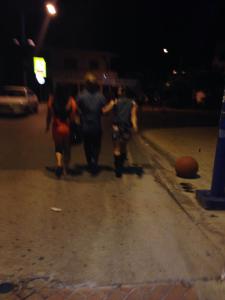 A blurred photo of this is appropriate here because experiences, the real happenings of a true adventure will always remain blurry to the viewer on the outside. But to the people in the photo…well, they have a different perspective.
Michael Durfee
Martial artist and teddy bear​