CYPRUS SPRING 2013!
May 16, 2014
August 21, 2013
June 4, 2013
I feel like it was a month ago that I was just planning to study abroad and chose Cyprus. I feel like it was last week that we all landed on the beautiful island excited for the semester ahead of us, and all of my memories over the last few months seemed to have gone so quickly! Time really does fly by when you are enjoying it. Homesickness was never an issue for me, however I think reverse culture shock may be a bit. Coming home, everything seems so different to me than it was when I left.
It is really hard to summarize my study abroad experience, because I cannot quite put it into exact words in order to properly describe it. It has been by far one of the best decisions I have ever made. Being exposed to new cultures and actually living in it, helps put things into a larger perspective. The world is much larger than the United States, and many people do not take the opportunity to see this. When you get a view from the outside looking in, I think you really change as a person and grow from the experience. Studying abroad is worth every penny. You make unforgettable memories, try new things, meet new people, and mature quickly. It's the first time many of us have to do things on our own without our parents or our close friends there to help us or be there to fall on. You learn to cope in difficult situations, and to try new things.
I learned a lot in Cyprus the last few months. However most of it was not done in a classroom. I learned a lot about myself, especially to try new things. I have always been very outgoing, but now I think I am even more so. Not only now do I like different foods that I thought I hated, but I now know how important traveling is to me. It can really teach you a lot. Everyone should take the opportunity to travel. I learned that my decision to major in international business was the right choice for me as well. I know that traveling internationally is what I want to do for a living. Studying abroad helped me to learn who I am, and who I want to be.
Cyprus was a great culture to study abroad in. Its location allows for extra travel fairly inexpensive to different countries. It is in the middle of Africa, Europe, and the UAE so you have a variety of places to see, and of which are all very different. Also within Cyprus there are so many things to see, which all are relatively close, and the island has very rich history. If you love the beach, Cyprus has the best. The water quality is amazing, especially coming from the Mississippi River area where you cannot see anything in the water. As for nightlife, there is ALWAYS something going on, no matter what night of the week.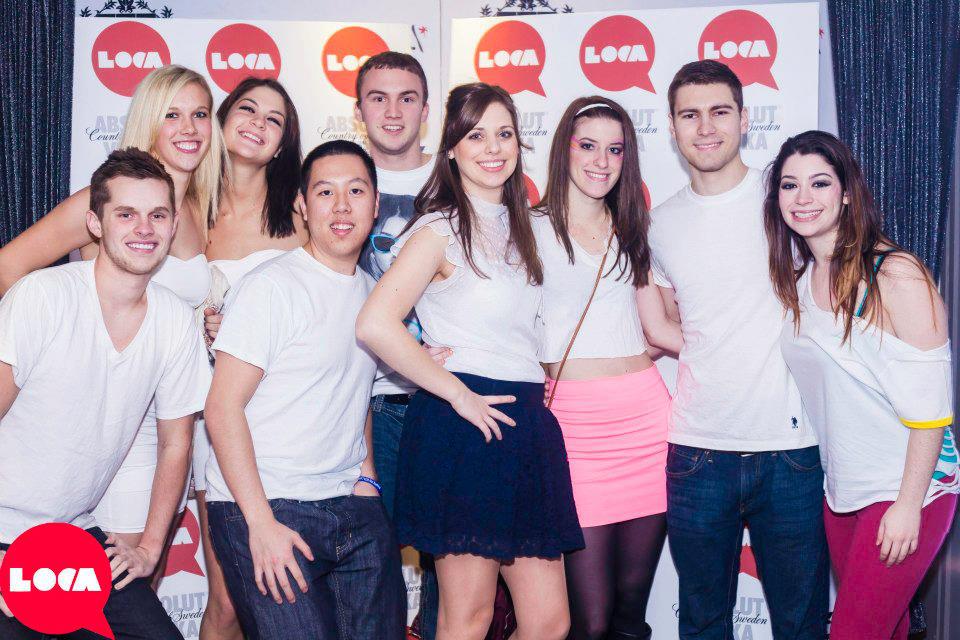 Cypriot life is fun, relaxing, enjoyable, and family based. They like to eat huge meals together. Meal times are much later than they are for us at home. They usually eat lunch around one and dinner after nine. I am usually starving by this time! The food is generally a lot healthier. Cypriots usually have a salad with every meal and use olive oil and lemon for cooking everything! They are super hospitable people, and are very offended if you don't eat their food, and lots of it. Being late in Cyprus is no big deal. If you are on time you are way too early and the first one there, especially for class. Professors are usually fifteen minutes late and start a little while after that. Everything is very relaxed. The less stress Cypriots have in their lives the more comfortable they are. Stray cats are everywhere! Don't expect to go anywhere without seeing five to ten cats. The benefit of this: NO SNAKES! There are no regulations when it comes to parking, and if there are they are not enforced. Who cares what side of the road you park on, which way you are facing or if you park up on the curb.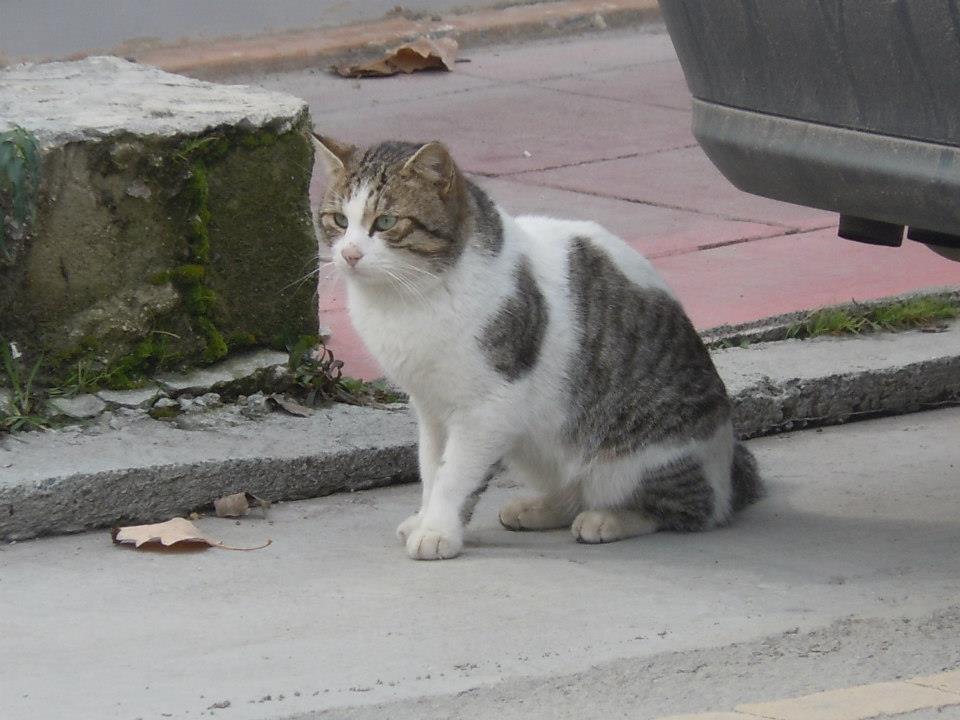 A few tips for studying abroad: try new things, not matter your previous experiences or lack of, do NOT over pack, save room to buy new things or lots of new things, and meet as many people as you can, and interact with locals that know the culture. I am going to miss Cyprus a lot, but I plan to go back very soon! It was definitely an experience of a lifetime.

May 21, 2013

With the semester coming to an end and GLS students leaving, we had to finish the semester with of course a meze! Food, food, and more food is what my last week has consisted of. After a nice graduation ceremony we all went to eat at a nearby meze restaurant called Koumpario. It worked out well as this was the first meze we had all had together at the beginning of the semester. Food continues to come out for a couple hours while the owner encourages you to keep eating more and more. Later everyone got together to say their goodbyes and to spend one last evening together. On top of the goodbyes I had quite the eventful week.
Sirena Bay in Protaras has become one of our favorite beaches to go to. It's not a popular tourist destination, and is therefore more secluded and there are less people. It is more of a beach where the Cypriots go. You park above and walk down a few levels to first get to the small restaurant and bar that they have there, and then down a few more levels is the beach. My boyfriend's brother is actually having his wedding here this summer. From the shore the bottom is pretty rocky but it gets deep fast. If you swim out far enough however, there is a nice little sand bar to stand on and find hermit crabs. We also found some rainbow fish and a star fish, and made a nice little hut from bamboo one day.


Thursday night a DJ from Washington DC flew in, and we were all invited out to dinner with him. He played at a club here Friday night. A large group of us went out to dinner, meze style at a restaurant in Nicosia on Thursday. It was a fun night, and I definitely got to experience the Cypriot culture full circle with shots of Sambuca, Greek food, and even Greek music. The restaurant had live music, which was a guy playing his guitar and singing in Greek. Many of my Cypriot friends knew the songs and sang and danced along. It was a fun night. I enjoyed another meze, for a total of three this week, with my boyfriend's family on Saturday. Many of the families gather together on weekends to have a huge barbecue cook out with tons of food.
This weekend was Eurovision! I had no idea what this was until it got explained to me, but apparently it is a pretty big deal in Europe, and a few famous music artists have come from it. Each country sends a representative to sing for them in a song contest. There are a few rounds, and each round each country has votes. They give a certain number of points to a few countries that they feel were the best. Each round a few countries are knocked out. It was interesting to watch as some songs are sung in different languages. Many of the countries that are similar team up and vote for each other. This year Denmark won.
I had a great day in the mountains yesterday! We took off for a road trip to Troodos at around 11. Of course we made a stop at Zorbas bakery for a quick cheese pie and some cookies. The cookies at Zorbas are pretty good! Our first stop was at my boyfriend's mountain house. It is super old, built of stone, and had a great view of Limassol down below.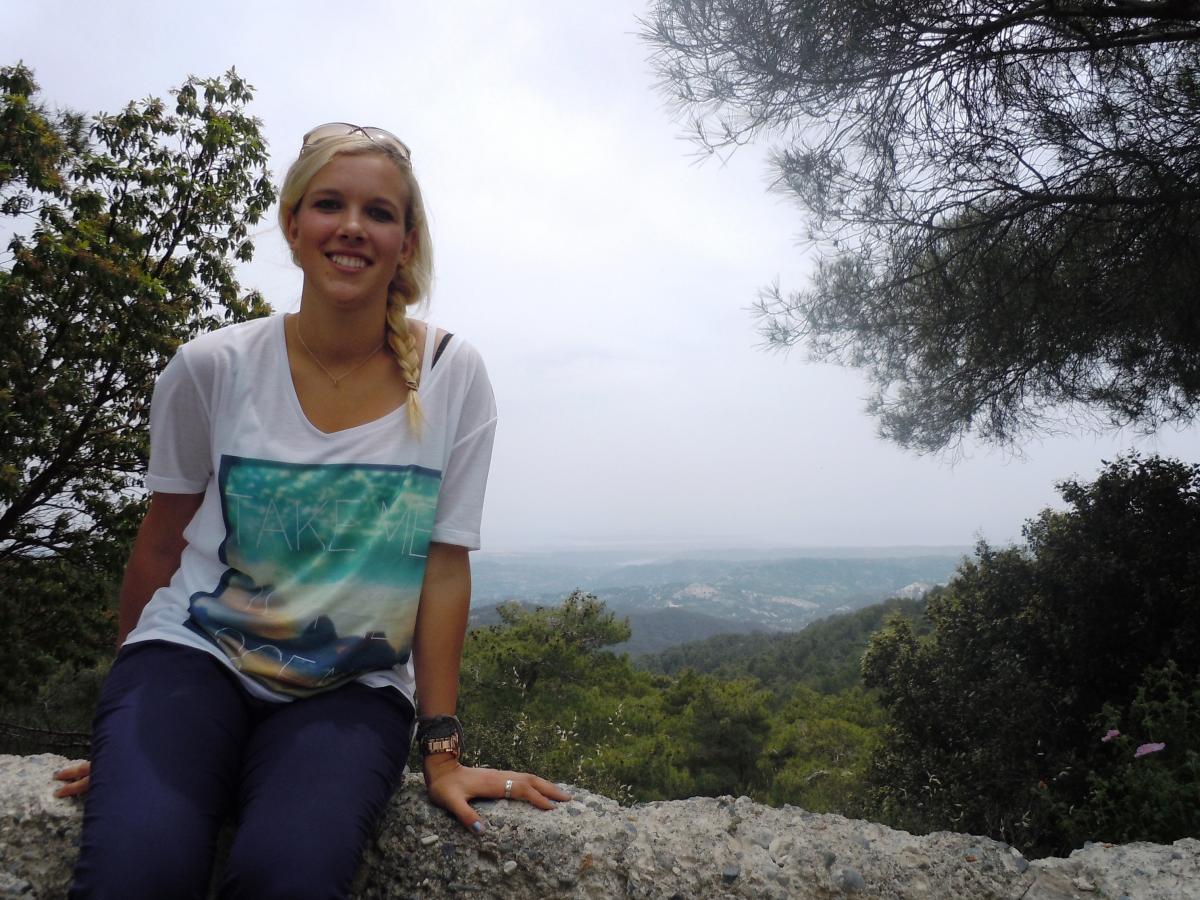 After the house we stopped at a market in Troodos. Here there was an older Cypriot selling different wines they made in the mountain, and he kept giving us different tastes of each one. The same shop also sold roasted almonds and other traditional Cypriot fruits, as well as honey, olive oil, lotions, postcards, herbs etc. Koumadaria is the wine we bought which is a traditional sweet Cypriot wine.
Next we went on a hike to find Caledonia Falls. It was about a mile and a half hike up the mountain along the steam. The weather was perfect for hiking, not too hot, and not chilly either. The water from the waterfall was cool and refreshing when we got up there. After a few pictures we hiked back down so we could have some lunch at the trout farm.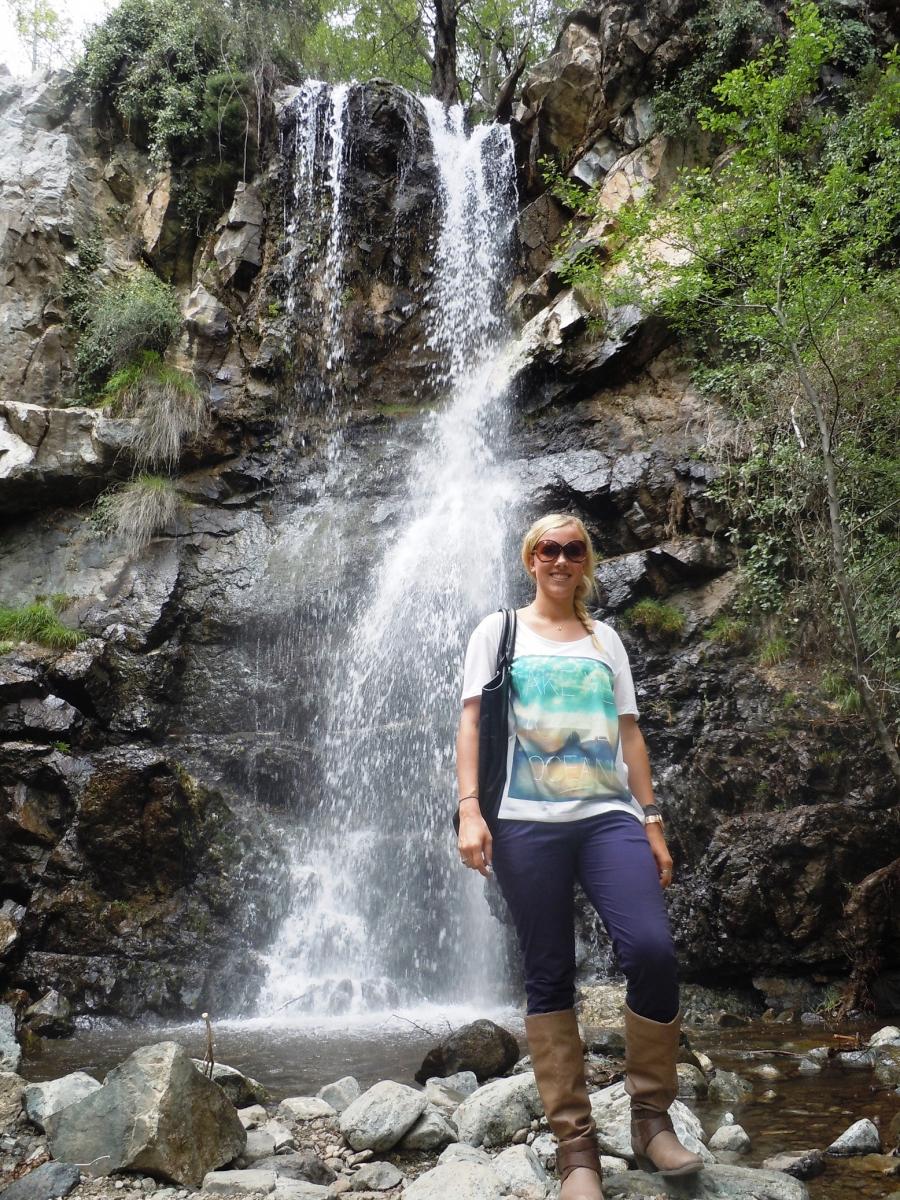 The trout came out whole, with the skin, tail, and head. (Something I am not used to until seeing it in Cyprus). They had butter, garlic, and lemon sauce to spread over it and I have to admit the fish was extremely tasty.

Over the course of the trip we stopped at a few different sites on the edge of the mountain in order to see the amazing view. The narrow roads on the mountain are very curvy and sharp; however there really is a lot to see up there. Our next stop was at an abandoned hotel. Berengaria Hotel used to be one of the most luxurious hotels during the 1920's, and ran for 60 years. There are different stories as to why it stands empty since the 1980's, however it is supposedly haunted. It also lost its roof a few times due to arson attacks. Much of the inside has been gutted due to hopes of renovation which have never been successful. You can see it standing out on the mountain from quite a distance. The architecture of it was really cool to see since it was all created from stone. The pool in the back is also intact and stands empty. The hotel had a cool eerie feeling but was a great experience.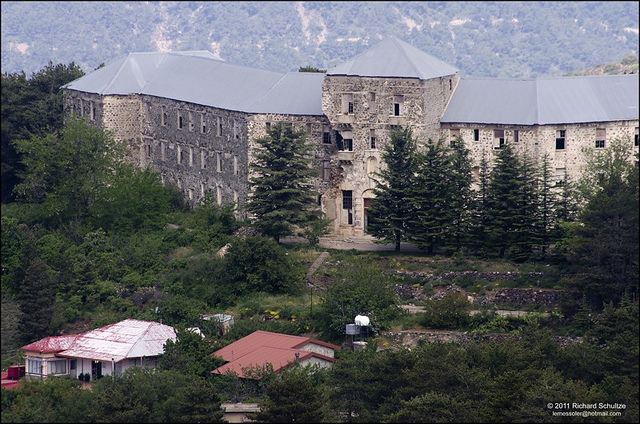 A few more finals to finish up this week, and my semester at the University of Nicosia will officially be over. Packing after such an amazing semester is going to present itself to be extremely challenging, not only trying to fit all of my things in my suitcases, but saying goodbye to my friends here is going to be the hardest. I have so many amazing memories and experiences after studying abroad, and I have met so many great people. I have to say it was one of the best decisions I have ever made.

May 8, 2013

Χριστος ανεστη!
Happy Easter!
This past weekend was the Greek Orthodox Easter. First I had an amazing week away at the beach in Protaras with friends and my boyfriend. We have been spending the weekends in Protaras. The town is really beginning to come to life with tourists. A few weeks ago it was nearly dead when we were there and now there streets are filling up with people and the beaches are starting to get busy! Even the lizards are out now. You can find them running up the sides of the houses or along the rocks at the beach. Nicosia was nearly dead over the weekend however. People leave the city to head to the coasts for their days off. When we got back to Nicosia on Sunday everything was closed and the roads were empty.

Two weekends ago we were back at the Capo Bay Hotel again for a couple days. We enjoyed the pool, beautiful view, and the drinks at Koi (the hotel's restaurant). My favorite Greek phrase would be Παμε στην Παραλια! Let's go to the beach! On top of being at the beach the house there also has a pool so I spent the week relaxing in the pool, tanning, and reading. At the beach we of course went snorkeling :) The weather here is hot! It went from warm to hot overnight. Being out in the sun around noon for long periods of time is almost unbearable, and the Cypriots tell me this is nothing, it's about to get even hotter! Poor Chino, my boyfriend's Pug almost hyperventilates after a short walk. I am starting to get a really nice tan however. If you go out after sunset the weather is perfect to go for a walk. It cools down to just the right temperature.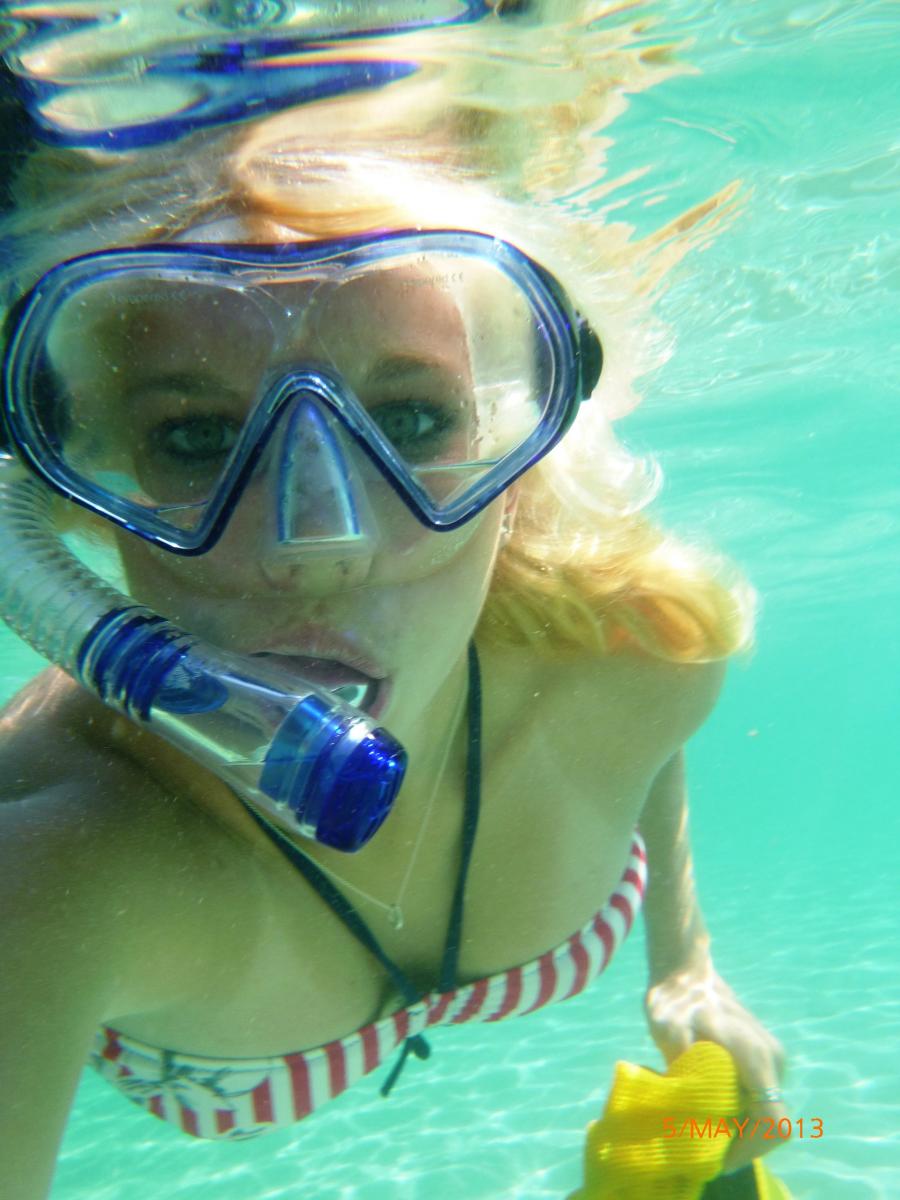 Easter Sunday was spent at an amazing house on the sea which was designed by my boyfriend's dad. The view from every window was incredible. The pool dropped over the edge and had an incredible view. You can see the huge house in the background in the picture with the beach. There were huge rooms including a library, spa, gym, and game room. Friends and family gathered at the huge house for a large feast. Food consisted of a roasted goat, salad, pitas, pastitsio (Greek casserole), an eggplant casserole, and Greek potatoes. For dessert there were fruits, chocolates and a few types of cakes. It is traditional that they too color hard boiled eggs. However, instead of hiding and finding them as we do, they each pick one and then hit them together. If your egg cracks you are out. The goal is to have the last egg that is not cracked.

After eating we went down to the sea for some swimming and snorkeling. Straight down from the house is a nice beach surrounded by rocks. I have grown up around water and boating etc. but I am still fascinated by the clearness of the water, and what you can see under it here in the Mediterranean. Especially when the sun is reflecting off of it it's such a beautiful blue green, and the sand is white and clean. The lakes at home are too dark to see anything under the water. Seeing the different types of fish and crabs, and even the rocks I find to be really cool. Snorkeling through the sea we found puffer fish, hermit crabs (two crabs were fighting over a shell), rainbow fish, pipe fish, large fish hiding in a little cave made by the rocks, and another fish that was protecting its home. Also you can find snails not only by the sea but even in Nicosia. Going for a walk with the dogs the other night I found snail shells on a bush next to the sidewalk. It was really different I had never seen them climb up the plants. It looked like they were growing on it like acorns would on a tree.

Cyprus has many Byzantine churches to visit, and my favorite thus far is in Protaras. It is a small chapel up on a granite hill. The name of the church is Profitis Elias. You have to climb up about 100 stone steps to reach it. (you can see the steps in the picture below) Once at the top you have an incredible view of the town below and off into the sea. I guess the service that is held there on Easter fills up the church, the hill, and even the steps up to the church. You can see the church at night light up. They light up the whole granite hill.

I cannot believe how fast time is flying. There is less than 10 days for some of us before we head home and less than 20 for everyone else. The semester here has flown by. I think it is safe to say we all have had some amazing memories and have been very lucky to study abroad!!!

April 24, 2013

My last Greek class was today! Sad and exciting at the same time! I cannot believe how fast the semester has flown by. Easter break starts for me tomorrow after I attend one more class. That one more class and I have over two weeks off! I am excited to experience Easter here in Cyprus where the traditions will be different than ours and of course back will all kinds of Cypriot foods. This past week I spent time in a few coffee shops. On Ledra Street, which is the old part of town, there are some really cool places to sit with friends and have coffee. Now that the weather is warming up there are many people out walking, drinking coffee, socializing, and eating down there. It's a pretty cool atmosphere with the narrow streets and small cafes and restaurants.

This past weekend the GLS crew went to Ayia Napa for a fun filled beach weekendJ The weather was not looking too hopeful before we left. However, even though it wasn't too warm, it was warm enough for us Americans to be at the beach. The Cypriots still think it is too cold, and that we are crazy for wanting to go to the beaches so badly. Friday morning we packed the bus and headed to Larnaca to sight see a bit first. Our first stop was at a Mosque. It was settled on the edge of water and surrounded by trees (very pretty). It is a mosque, mausoleum, and cemetery. This was my first time actually going inside of a Mosque. They made us take our shoes off and those who wore short sleeves had to cover themselves in a wrap. The whole floor was covered in different carpets, which were all sorts of colors. The first room you walked into was large. Towards the back there were smaller rooms, and one housed a tomb. This mosque was a holy site for Turkish Cypriot Muslims. The area was landscaped nicely with a wall around it and a large gate. There were many flower trees and sculptures as well.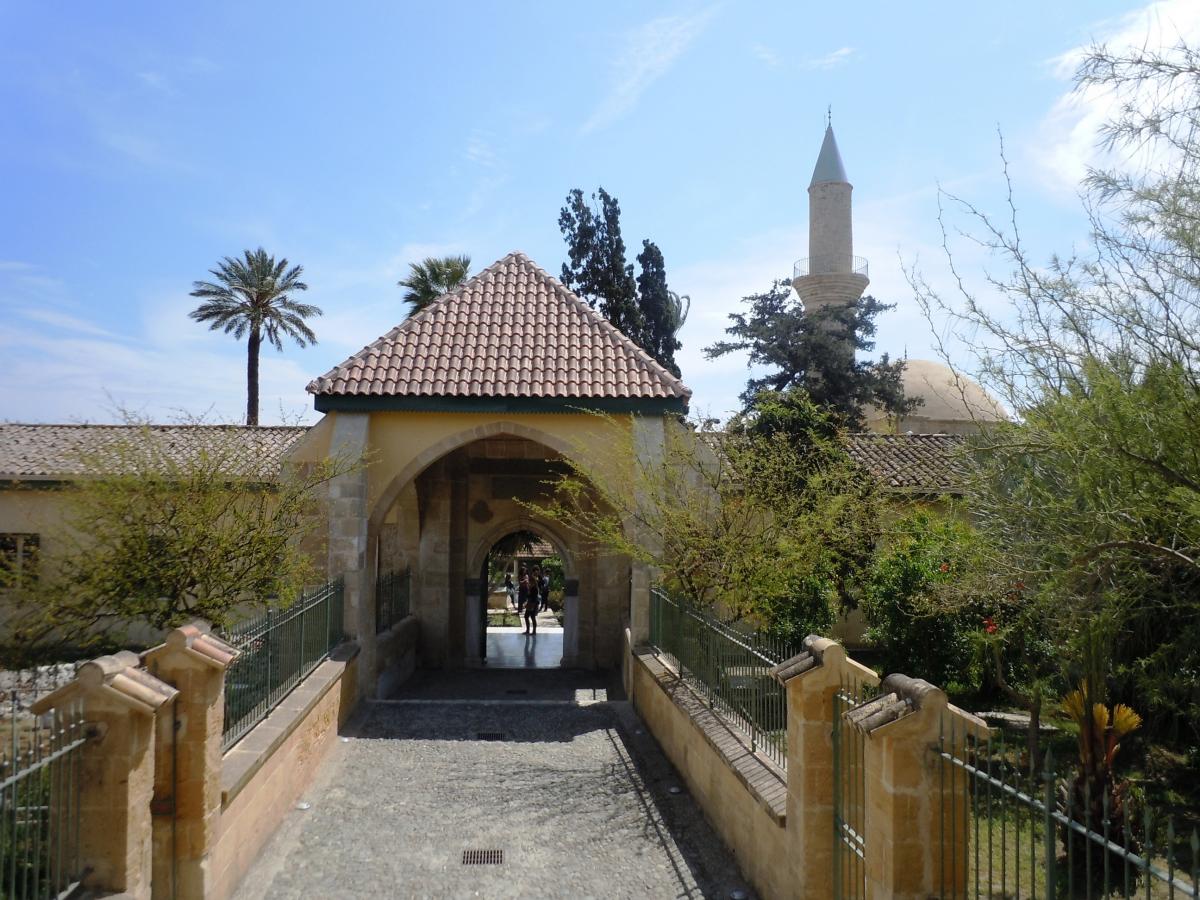 Our next stop was downtown Larnaca. Here we visited the Church of St. Lazarus. It's a beautiful Greek Orthodox church with is elaborately decorated inside with gold, gold, and more gold. St. Lazarus was believed to have fled to Cyprus after he heard rumors of plots to kill him. When he eventually died, after being a bishop in Cyprus he was buried in the church. It is amazing how much history there is in Cyprus for how small it is. The church is set in a nice town square where there are small restaurants and cafes for people to sit at.

Eventually we loaded the bus and made our way to Ayia Napa and checked into the hotels. The rest of the weekend consisted of people cliff jumping, swimming, lounging by the beach, eating, and of course enjoying the nightlife that Ayia Napa is known for. Sunday we had a small BBQ in Protoras, a city near Ayia Napa. Some of the Cypriot boys made us souvlaki, pitas, tzatziki, mushrooms, and of course halloumi all prepared on the grill. It was a nice home cooked meal.

This week I went for a few nice runs. It is getting pretty hot to run during the noon hours but there's a nice park I like to run through which is part of the presidential house. Everything is so green and pretty. Also I am excited for next weekend, as we have another weekend planned at Capo Bay Hotel! That means more beach time.

April 15, 2013

I had a nice relaxing week, much needed after a long vacation in London and Sweden. I cannot believe how fast the time is flying. There is only over a month left! The weather here is starting to warm up, however it still is unpredictable, and can be quite chilly at night. Classes this week went well. I finished my last mid-term, and now only have a project to focus on for next week. My Greek is coming along… sort of! It's a harder language to learn since it's a much different alphabet. I spent the week going on a few runs through town, and around the park which is not far from our apartments. Cyprus is very nice to go for a run in as long as it is during the right time of the day. Some days can be quite hot. I also like going to coffee shops here. They are so much larger than in other countries. Cypriots like to meet up with their friends and go for coffee and sit and talk for hours. Therefor the coffee shops here are huge with tons of seating. I spent two days this week in a coffee shop. One I went to so I could study, and another to catch up with a friend.
This weekend was the start of the next few weekends for me to be at the beach! I had a nice weekend planned for me in Protaras. Saturday we left for Capo Bay. It's a resort on the beach in Protaras. Capo Bay is a very nice resort with a spa, a few restaurants and indoor and outdoor pools too. One of the pools is even heated. There is a small fish pond between the beach and the hotel with colorful koi fish in them. When you walk up to the pond they swim over to you with their mouth wide open begging for food.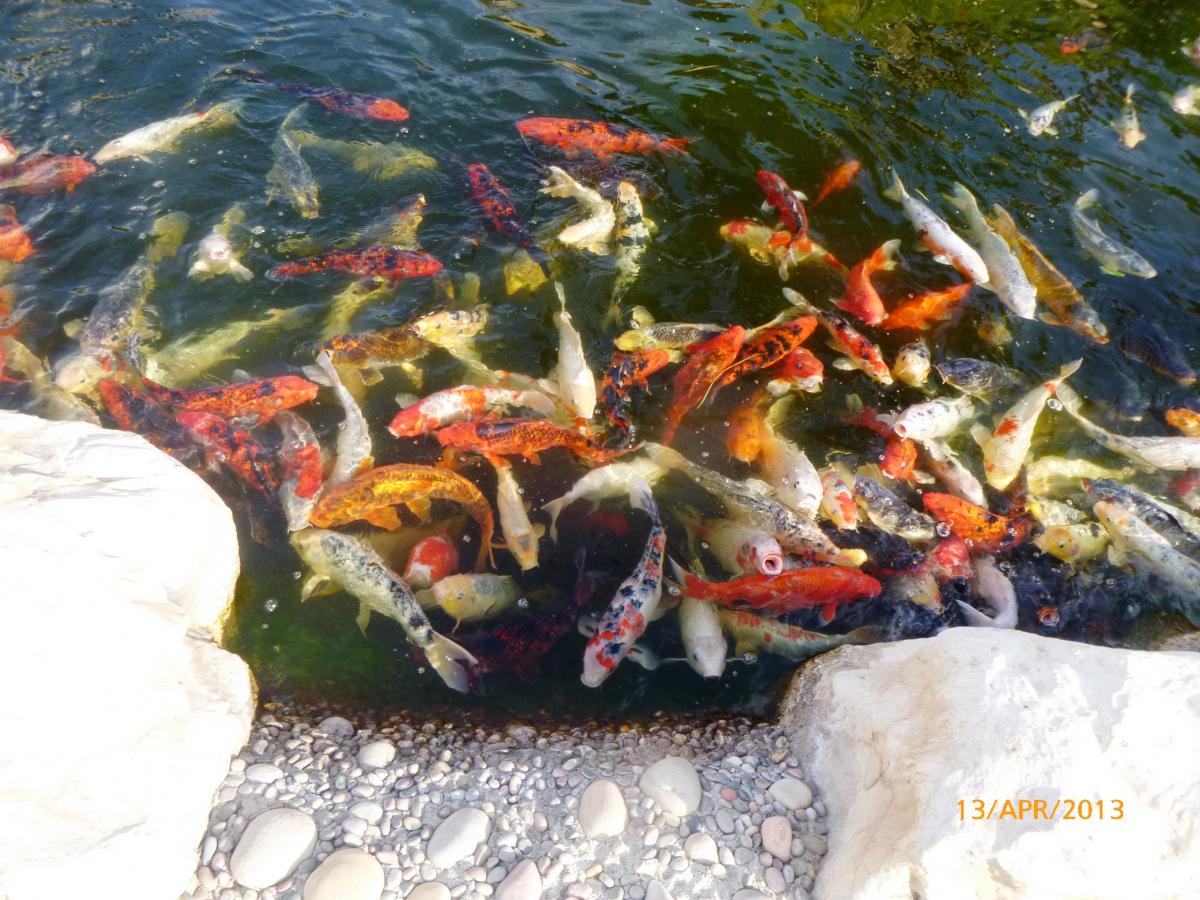 Luckily the sun was out. Still the sea water was a bit chilly until you got used to it. The beaches here are amazing! They are super clear with white sand bottoms and beaches! Saturday was my first time going snorkeling. I was amazed at how much you can see under the water. Below are some pictures of me getting ready and snorkeling. You can see just how clear the water is. We took an underwater camera with us. There was a nice little rock island not too far off of shore that we were able to swim out to. Here you could see small fish swimming around. Under the sea was something new to me and I got pretty interested in swimming around checking out different things with the snorkel on. We caught a couple hermit crabs in their shells and took them up to the shore to watch them crawl out. Lying out in the sun on the beach felt so good! I even got tan lines at dinner on Sunday in just an hour of sitting outside to eat. The sun in Cyprus is much stronger than at home.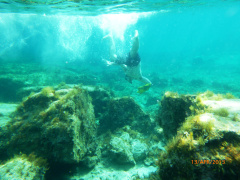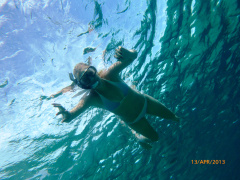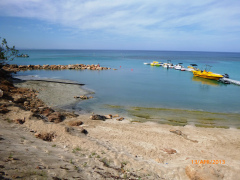 On top of beach time, I spent time eating as well. The restaurants there offered a huge breakfast, light lunches and massive buffet dinners. Sushi and drinks were also available at the outdoor restaurant. For lunch we ate at one of the hotel's restaurants called Mamas. I had a chicken kebab in a pita. It's a very Cypriot type meal. The sea was close by, and was a very nice atmosphere to eat lunch in.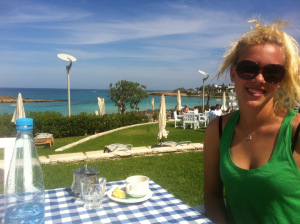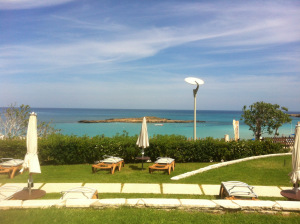 Next weekend the whole GLS group goes to Ayia Napa! I can't wait for one more big trip together with the whole group!

April 7, 2013

Today I am writing from London! The weather here is much colder than in Cyprus, especially with the wind. I arrived here in London a week ago, and so far have had a nice relaxing trip. This is my second time here so I am quite familiar with the area. Last Saturday was spent eating a nice lunch at Dinner by Heston Blumenthal. He is one of the top chefs in the world, and I had one of the best dining experiences I have ever had. We started with starters; frog legs and liver pâté which looked like an orange came out and were delicious. I ordered a nice steak as well and it was incredibly tender. The fries were triple baked and perefectly crispy. We ordered desert too, and the food seemed to keep coming and keep coming. I left completely stuffed. On the way back to the apartment we walked through Hyde Park. It's a nice walk with the different things going on around the park; bicyclers, horseback riders, roller bladders, wild life etc. Mostly this whole trip has been about food and for dinner that evening we had Indian. It was again another very nice meal.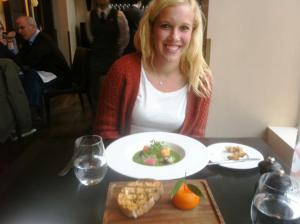 Another favourite of mine in London is Hummingbird bakery. They have delicious cupcakes. We made a point to test them against Lola's cupcakes which is in Selfridge's. Of course not only is food in London amazing but so is the shopping. A few days were spent walking around to the different stores. Harrods and Selfridges are two of the huge department stores here that we went to. In them we looked at the pet stores and toy stores. A few friends and I found some stuffed animals, however there was no way they were going to fit back with us on the plane! Selfridges even had a shoe carnival going on. Twice we ate a place called Meat Liquor. Here there are amazing burgers and wings and it is super cheap. The meals come out on one tray for the whole table. There are no plates, just the tray and an extra large roll of paper towel as napkins. I also shopped on Carnaby Street, which has many different colourful buildings that are cool to see. Another colourful area to shop in is in Covet Garden and it's called Neal's Yard. Here there are a lot of organic food places and shops and the buildings are also all sorts of bright colours.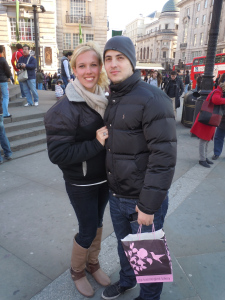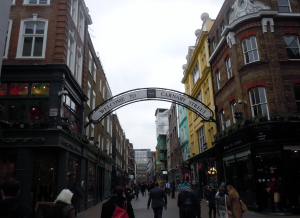 Thursday we began our flight to Sweden. Surprisingly the weather was better than in London, even though there was much more snow. The people would run to spots of sunlight to just stand or sit in it because they haven't had warm weather in so long. In my pictures from the zoo you can see the animals were all out lying out in the sun too.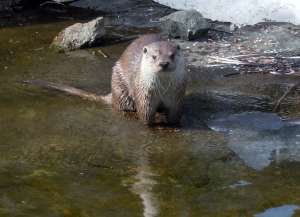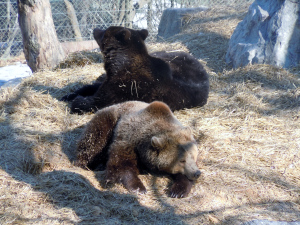 Landing in Vasteras I discovered the smallest airport ever. The plane pulled right up to the building, almost like parking a car. We stepped down the stairs, walked inside to a desk that had only two passport checks. Within another two minutes we were already on the only bus leaving the airport. Stockholm was beautiful. The architecture is old and really nice to see, especially coming from America where there is very limited history when it comes to buildings.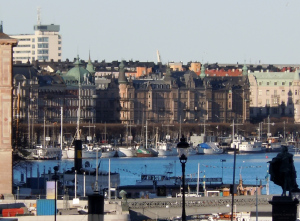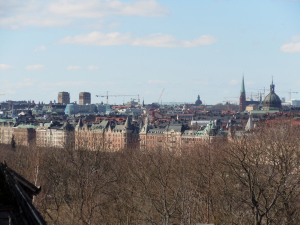 We saw the palace and parliament buildings as well as old town and all of the shopping. H & M is huge and Sweden and there are like 5 H & M's within a blocks distance of each other. Stockholm has many ships out on the water that you can see and the one day we took a boat to an island where we went to a zoo. The zoo had different animals relevant to Sweden and Norway etc. It also had historical Swedish houses and farms. We saw seals getting fed, otters, brown bears, horses, sheep, goats and many more. Also in Sweden we went to an ice bar. It was made all of ice and they gave you a parka to put on. The glasses were even made of ice. It was a really cool experience. There were also a couple of sky bars that we went to where we got to see the skyline at nice.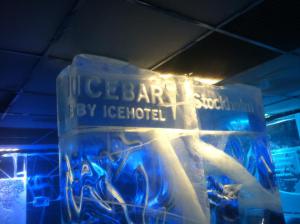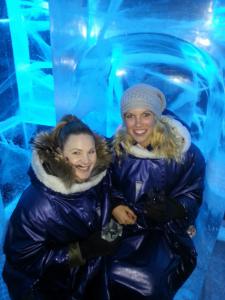 Sweden had a few different foods that I tried. Skagen was one of them. It is a shrimp and mayo type spread that you can put on bread or baked potatoes. The food in Sweden was really nice, much healthier than food in Cyprus and much less meat. There were many salads and sandwiches on the menus.
I am back in London until tomorrow and am looking forward to spending one more day here and visiting with my cousin some more. Then back to sunny and hot Cyprus, where she hopes to visit me soon! I am so ready for hot warm summer weather!!!

March 29, 2013

So much has been going on here lately! I'm getting excited to visit London again tomorrow for the next week and Sweden as well. Just as the weather is warming up here, I head back to the cold! Weeks are flying by, especially with all of the holidays that have been occurring here. Next Monday is the third Monday off in a row, but I am definitely not complaining!
Two weekends ago was Carnival which is celebrated basically a whole week before the first day of Lent. We celebrated carnival a few times throughout the week. One was a Wednesday night where we dressed up to go out, and then next was the actual parade held on Sunday. There is a huge parade every year in Limassol with tons of people that dress up, and crowd the streets. Confetti covers the pavement…so much you can hardly see it. A bunch of us GLS students and a few others, took a bus sponsored by a local event group call Loca, to Limassol to participate in the festivities. We all dressed up and left around 10:30 and didn't return until around 8 at night. Those who participated in the parade had elaborate costumes of all sorts. Participants were of all ages as well. Some walked while others were on big floats. It was definitely the largest parade I have ever been to.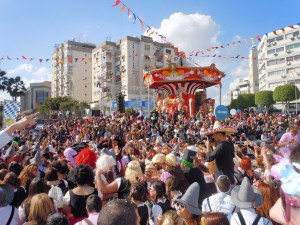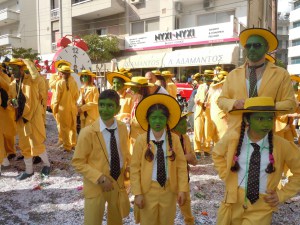 The next day we enjoyed a picnic in the park to celebrate Green Monday. This is a day where they don't eat meat and spend it with their families in parks playing games and eating. The weather was beautiful. We spread out blankets and had a large feast. We all played volleyball and football (soccer), Frisbee, flew kites, and sat in the warm sun for a few hours. We had many types of Cypriot breads, Cypriot desserts, sandwiches, fruits and veggies. There was plenty of food for everyone as there always seems to be here.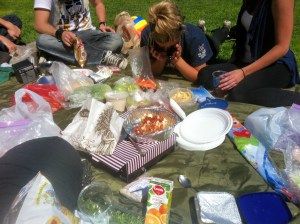 On the note of food, I have had quite a few Cypriot meals prepared for me lately. These have consisted of different fishes, salads, breads and vegetables. It was the first time I had ever seen a whole fish served on a table! After all of the skin, heads, and bones are cleared the fish is actually really tasty. Sea Bass has become my favorite soaked in olive oil and lemon. Olive pies are also really nice, especially when you eat them while they are still warm. Another of our favorites here is Yoo Moo. It is a frozen yogurt place down the street from our apartments. Its fat free, delicious and has any kind of topping you want to put on your yogurt.
I have now gone horseback riding here in Cyprus twice at Lapatsa Riding School. The stables are large and beautiful. They are all brick with court yards and they even have a small café. There is a nice indoor arena and a huge outdoor one as well. It is so great to be back around horses again and riding was one of the highlights of my last few weeks. The first week I rode a horse called Pennywise, and last week I rode a horse named Thunder. Both lessons I jumped and I am looking forward to working with the trainers here to learn more.
Last weekend was spent with the whole GLS group traveling to the west side of the island. On Saturday morning we were all packed and loaded onto a bus headed to Limassol for the day and then Pafos for the rest of the weekend. Limassol is a large tourist city on the coast. Here we visited castles, an ancient city, Aphrodite's birthplace and mosaics.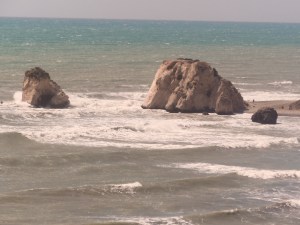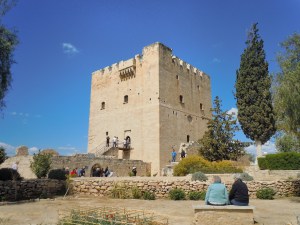 By lunch time we were all starving and we had a nice lunch by the sea. It was very windy but the weather was better Saturday in Pafos. The resort was beautiful with all of our rooms looking right out into the sea. There was a large pool outside and an indoor one as well. The sea was still really chilly. Some people enjoyed the spa, hot tub, sauna and gym. Saturday was spent laying out for most everyone all day working on our tans.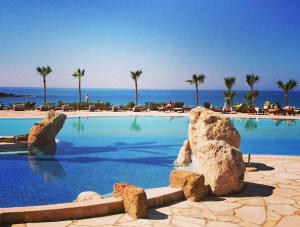 However, a few of us participated in the Limassol marathon where we ran a 5k. The route was along the beach and was a lot of fun. Since the average time of the first four of us was the second fastest time, our team actually placed second in the 5k. It was cool to see all of the different runners from all over. Even Olympic medalists were there to run the marathon. At the end of the race they provided water and bananas and different refreshments. Monday morning we laid out some more. I burnt my back really bad in only an hour, I couldn't believe how hot the sun was. No one was ready to leave Pafos when the bus pulled away.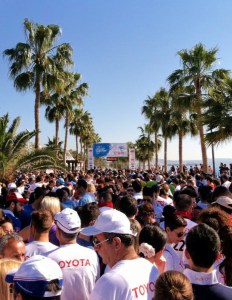 On the way home we stopped in a small village called Lefkara in the Troodos Mountains. This village is known for its lace and silver. Every other shop down the narrow streets sold lace products or silver products. There was a lot of very pretty jewelry. Here we had a nice small lunch at a local hotel and restaurant. Everyone is really looking forward to our next trip together in Ayia Napa coming up in a few weeks!

March 20, 2013

It's mid-March already! Time is flying! I have definitely been enjoying my Cypriot lifestyle and the semester will be over before I know it. My Greek is coming along slowly… I can only say a few phrases, the alphabet, and count but at least it is a start. Some of the GLS group is off on a trip to Greece and Italy so things have been a little quieter around here.
Last Thursday I got together with my friends before they left for Greece and we had coffee together at a shop close to our apartments. That night Alexis and I got an invite to the Stoli awards. Stoli sponsors an awards night where they award the different clubs around the island for uniqueness and things the different clubs excel in. It was a cool event to go and see. It was an all red carpet and waiters with everyone quite dressed up type of event. There were different performances and a DJ as well. We went with a few friends, one who is a popular DJ in Cyprus, and a few others that run a club in town. It turned out to be a fun night. After the awards we went to a Greek club where Greek music was playing and mostly everyone there was Cypriot. Also I have noticed that the color here is black. Everyone dresses in black, or at least most of the time when they go out.
Friday was Joko, the lounge bar I like in Nicosia. On Fridays they have a Sushi Buffet and I have this new obsession with Sushi since I've been here, and all of the food really. It was nice to get together with a few other couples to have a few drinks and dinner.
Speaking of food! Saturday I experienced my first Cypriot family barbeque here. Talk about a lot of food. The Cypriot stereotype still holds true. Around noon or so a few of the family members came to the house to prepare the meal. First they lit fires on these small charcoal grills and made a bunch of smoke. Much of the food was put on here. Halloumi, sausage and pitas were made as an appetizer (although it could have been a whole meal in reality). For dessert I had an orange peel that had been soaked in sugar for over a year and a walnut as well. I really like the walnuts but found the orange to be way too sweet for me. After the barbeque came espressos and playing Tavli (backgammon), which I have actually learned to play. And just a side note; the first time I played I won 4 to 1.
So here is the list of food that we had and of which I learned how to make quite of few of;
Cyprus Sausage (it comes linked together and has many herbs in it and is cooked over the charcoal)
Pourgouri (Rice Dish and you can eat it with Greek yoghurt)
Halloumi (Cypriot cheese that you grill over the charcoal and is really good with lemon on it)
Feta
Saganaki (Cooked Feta with olive oil and oregano) (Olive oil is so much BETTER here)
Souvla (this is the meat, sort of a kebab type thing)
Tzatziki (yoghurt, mint, cucumber sauce: very good!)
Pita Bread (also toasted on the charcoal)
Salad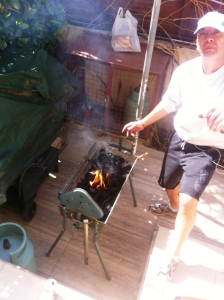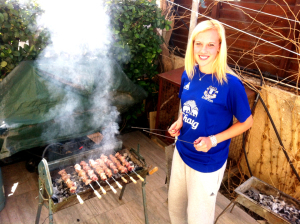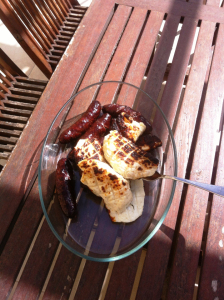 Anyways I stopped taking pictures when the appetizers came out because I was too busy eating! As for the Everton shirt in the pictures… I am trying to be converted into an Everton fan but after a horrible game where they were beaten badly on Saturday the choice is becoming more difficult!
Saturday was great! I finally got my horse fix at Lapatsa Stables. It was so good to be around horses again. Alexis took me to a large stable where he has friends that ride, and lucky for me the day we went they had a competition. So we got to meet the horses, look at a few for loan, and watch some of the show as well. Quite big those horses are compared to my little Arabian at home. I also have a lesson Friday so I will finally get to ride again, and the weather here right now is absolutely perfect riding weather! They really only ride English here, whereas at home we have many different types of breeds, disciplines and events. However there were still a ton of nice horses and watching made me want to ride so badly. There are teams in which they compete in, basically each stable is a team, and there are many rivalries among the different stables (there aren't many in Cyprus like there are at home). One day soon I also want to go to the race track. They race horses really close to our apartments on Sundays. The rest of Saturday was spent eating pizza at Pizza Hut, and at a coffee shop drinking coffee and playing Tavoli with friends. I love Pizza Hut here because you can get halloumi and feta on your pizza. It's like my favorite kind of pizza now.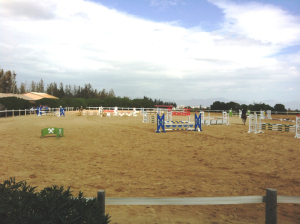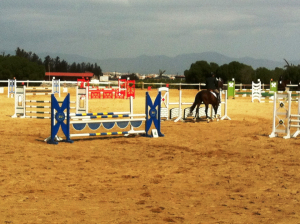 I am definitely looking forward to the upcoming week and next weekend since it is Carnival here, which is a large holiday. More to come on that later!!!!

March 5, 2013

Well I am finally back in Cyprus for a few weeks after a hectic and crazy two weeks. The middle of February I found myself back at home in the States handling things with my family. My plane landed in Cyprus on Monday and then already on Wednesday I took off for Dubai!!!
Dubai!!! Where to even begin???
While it was nice being home in freezing Wisconsin with like two feet of snow, I was glad to be back in the warmth of Cyprus, and even happier to be in the heat of Dubai! Dubai presented quite a new culture compared to what I am used to, although it is very tourist friendly. Getting through security and passport control and everything took a little longer than in Cyprus, but I finally left the airport to head to the hotel. The city at night was very beautiful with all of the tall buildings illuminated in different colors in the distance. They are quite unique buildings which also makes Dubai such a cool place to visit, many of the building are different shapes, and they really pay close attention to detail in architecture; no two buildings are similar it seems. I was relieved when I saw they drove on the right side of the road… makes crossing the street a little less difficult.
My first attraction was at Mall of the Emirates. In the mall they have a ski hill called Ski Dubai. In the mall you can ski, snowboard, and interact with Penguins etc. So the first thing I got to do in Dubai was the penguin encounter where I met two different types and sizes of penguins. The first you take pictures with and play with, and the King penguins you get to pet and kiss. So my trip of animal kissing began with kissing a penguin. Later that evening we met up with friends and ate at the cheesecake factory, in the mall, until I was about to explode.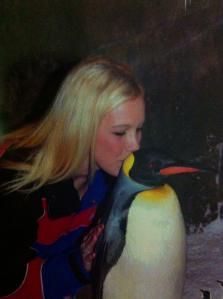 Friday I spent in the largest mall in the world. First was the Dubai aquarium where I got to see a bunch of different fist and penguins.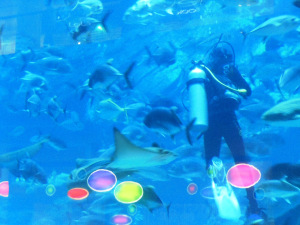 Right near the mall I also went to the top of the tallest building in the world the Burj Khalifa. The elevator went up pretty fast to the hundred and twentieth or something floor. You are supposed to be able to see the Burj from like 95 km out. It's pretty tall! My ears popped on the way up. The view from the building was incredible and you can see so many things throughout Dubai. The different man made islands out in the Sea are visible and look tiny but pretty cool from so high up. Heading back down from that point we went to lunch at an Italian place and waited for the Dubai Fountain show to start. The clear blue water in front of the mall and the Burj was very pretty.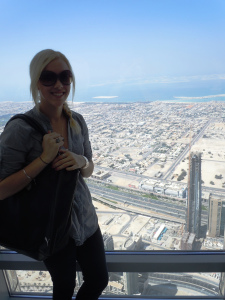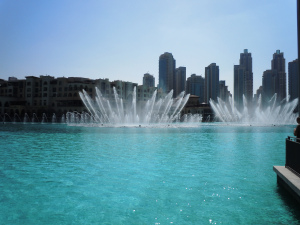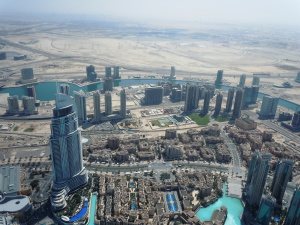 Later was the Desert Safari! Our driver picked us up at the hotel along with another family who was Spanish. We drove to the desert where we met up with about 40 other SUV's. This was my first time in the desert and the sad was fairly hot but there was a breeze. It blew sand in your eyes and mouth if you had either open for too long. Also all of our shoes filled up with sand. There was about a half our ride to the camp where we had dinner. The driver took us sand dune drifting in his vehicle and it was a lot of fun. We stopped to have a water break with everyone where we saw camels and horses off in the distance. The sun also began to set, and made the desert at sunset a great experience. Arriving at the camp I got to ride a camel. Crazy how the legs on those animals work; they just fold them in half and fall to the ground so you can get on and off. Not the most comfortable and you have to be ready or it takes you by surprise! But the camel was a cutie.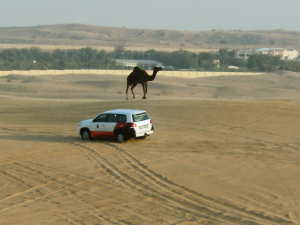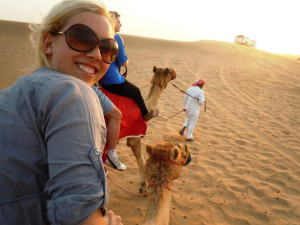 Dinner was in the camp and consisted of belly dancers, shisha, kebabs, vegetables, and dessert. In the camp you could dress in the traditional clothes, get drinks, tats etc. There were small low tables everywhere and people sat on pillows. The first belly dancer was a male and he spun and spun and spun. I have no idea how he didn't get dizzy. He had a skirt that lit up and he took that off and twirled it as well. The female belly dancer did more of a traditional dance. We left the Safari and desert behind that night tired, and full of sand with another big day ahead of us.
Saturday was spent at Atlantis! The resort is on a manmade island in the sea. It is very green there with lots of palm trees. The day was hot and we made sure we had sunscreen. I was quite happy with the little bit of a tan I got during the day. First we went and had a dolphin encounter. Another animal I got to kiss in Dubai. We all put wet suits on and went into the water with the dolphins were we got to pet them, kiss them, dance with and play with them. It was amazing how smooth they are, and the trainer said they grow a new layer of skin as often as every few hours which I found quite amazing. After the dolphins we hung out and did the waterslides in the water park for a while. There is one that tunnels through an aquarium. It's pretty cool. Then we went down to the beach. This was my first time in salt water (all the way under) and it took me by surprise! I had no idea how salty the sea really is! It was a very nice day and I got some sun and to see some more palm trees. We left Atlantis at sunrise and we watched the sunset over the sea.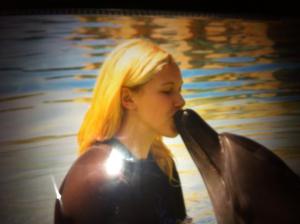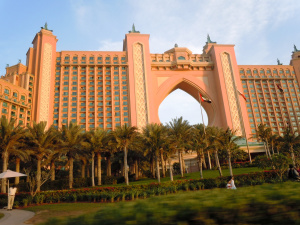 Later Saturday night we went to the Dubai Marina which is beautifully lit at night with many restaurants around to choose from. Overall Dubai was an amazing experience as I got to meet penguins, dolphins, camels, see huge malls, Ski Dubai, do a Safari, experience my first time in a desert and my first time in salt water, see the Burj Al Arab and the Burj Khalifa. I also tired new food and experienced a totally different culture. I arrived back in Cyprus on Sunday to nice weather here as well although not as hot and a bit windy. A group of us went to the Hard Rock Care to celebrate a birthday. I am glad to be back in Cyprus and excited to explore more of the island soon!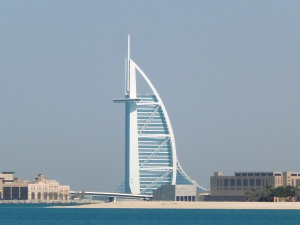 February 19, 2013

Last Tuesday night I had the opportunity to experience the Cypriot culture full on. I was invited to a birthday party for my friend's grandpa. Upon arrival I was shocked to see that the whole family was there; I had not been warned about that. Everyone was great and friendly, and with the upcoming election there was much debate at the dinner table. The meal was huge. There was duck and other different types of meats. There were spinach and cheese cannolies, different salads, dinner rolls, asparagus and a ton of different traditional Cypriot dishes.
Wednesday was spent with a few friends downtown in Nicosia. It was a nice warm and sunny day like much of the days in Cyprus are. We walked around Ledra Street for a while, and then crossed the bridge to the other side of the city where there are newer stores. Not even thinking about it being a Wednesday, we weren't left with much to do because everything closes early on Wednesdays. We had a nice lunch at Wagamama, a Japanese restaurant and then went to a traditional Cypriot coffee place and sat there for a few hours drinking coffee and talking. Scarebo, the name of the place, makes my favorite caramel latte macchiato.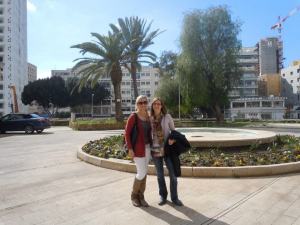 Valentine's Day was amazing! My date picked me up around noon with a nice rose and had the rest of the day planned as a surprise. He took me to Protoras, which is on the coast close to Larnaca. We also went to Cape Greco, Sea Caves and a beach in Aiya Napa. The experience was amazing as it was so beautiful. The water was quite rough, and there was a nice breeze. The area was practically deserted and very private for our picnic of different cheeses, baguettes, salmon, and wine.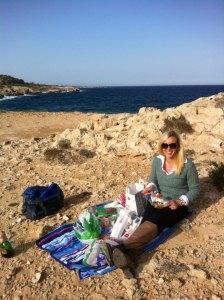 After the picnic we went and saw a small church on the coast and I got to climb down to the sea. The spray from the rocks was nice and warm.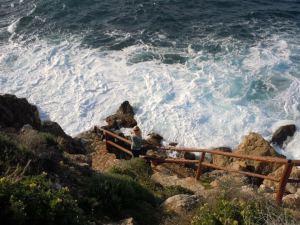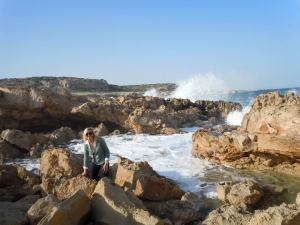 Next we went to the sea caves, where in the summer everyone jumps off. Once again it was so beautiful and the water was crystal clear. Lastly we went to the beach where I took off my boots and pulled my pants up to my knees and ran in the water. It was so warm! (I couldn't believe it). This trip made me so excited for summer. That evening we went to Joko, a lounge bar, for dinner to finish the night.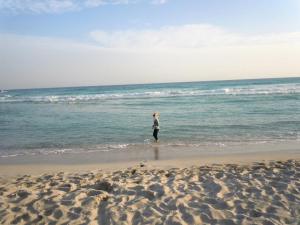 This last week I fully experienced the hospitality of Cypriot culture. I feel as if I fit in quite well here. The lifestyle in Cyprus is very easy going. However this past weekend I received terrible news at home and my parents booked me a flight for early Monday morning to return to the States. I will return back to Cyprus from over a foot of snow back here in Wisconsin next Sunday. It is nice to be here with my family at this time. I will admit though I am missing Cyprus and my new friends there already. I have lots of pictures for this post, but they explain my experiences better than I can in words.

February 9, 2013

I have become much more familiar with the culture here in Cyprus this week. I also got caught up on sleep and am not jet legged anymore. I have learned the locations of many places in the city and how to get around much better. Friends that I have acquainted while I have been here have been showing me many different places to dine, and I am absolutely in love with the food from Italian cuisine, to sushi and salmon everything has been great! Friends are still trying to convince me to eat meat, but I am still not sure about that. I am beginning to get used to the driving here and my stomach is not doing summersaults anymore after every stop and go light. Getting into a routine this week has been helpful with going to class and everything. My schedule worked out very well in the case that I have Thursday afternoons off through Sundays which will allow for more traveling. Next week Greek begins, I am excited for that but I feel it will be pretty difficult. I am becoming accustomed how to pronounce some words here, but the alphabet is completely different. I have met many Cypriots as well as people from other countries. For how small an island Cyprus is there is quite a bit of diversity at the university. Campus is nice and close to our apartments which is very convenient.
Last weekend I went on a hike scheduled by a couple that lives in Cyprus half the year and England the other half. The hike was in Kyrenia which was beautiful. The weather was perfect; sunny and warm! I met many people, most who were British or American and working with the embassies here. The Austrian ambassador attended as well. Jen, a friend from the states, picked me up around 9 am. We picked up another American and crossed the border into the North.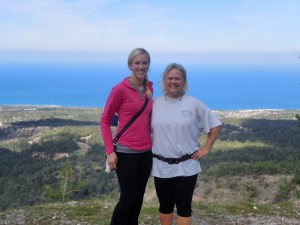 It's actually really interesting how it works. Since you have to cross you need your passport, but since Turkey is the only one that recognizes the north as another country they are not able to stamp your passport so instead they give you a piece of paper and they just stamp that. Driving on the highway you approach the mountains and it is just beautiful. As we reached the coast line you go around the mountain and on the other side below you all you can see is the coast, the city, and mountains. The view was really incredible. The picture is of Pentadaktylos, which is a mountain range. It is called this because it looks like five fingers.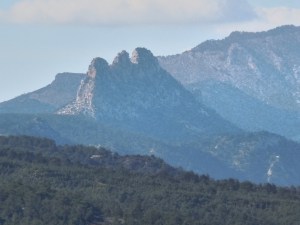 The hike lasted around three hours and there was a potluck picnic with wine after. The view from the mountains was amazing and it really turned out to be a very nice day. The North is very much hated by the south because of the recent history of the country. It is a shame at how beautiful the North is, yet there are so many empty houses and lots because the people were forced to flee. You can see this in the picture of the sea where some of the houses are even left unfinished.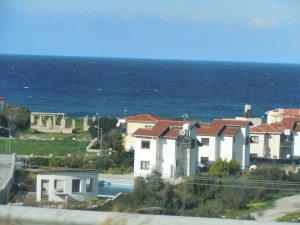 I cannot wait to go back to see Famagusta. From what I have heard it has some of the best beaches here, which must be amazing since the other beaches are gorgeous as well. The pictures I have are of Kyrenia and they do not come close to showing how amazing the view really was. I got to see a Shepard for the first time ever. I did not know they really existed anymore, as you would never see that in the States. He was watching over his sheep and goats in the mountains as they grazed.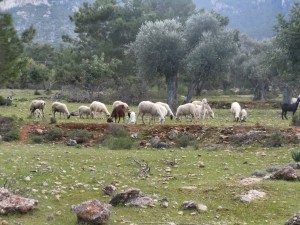 Ice cream here has become my absolute favorite and is actually very cheap! You can go to an ice cream shop and get any flavor and it is just so good! In a week I think I have eaten ice cream and sorbet about three times. As I have mentioned before the food here is my favorite, really no matter what it is. I love mushrooms and there are so many things to order on the menus here that have them, in comparison to at home.
It is still quite chilly here but I cannot complain since there is a ton of snow back home in Wisconsin, and I am not missing it at all. The other day I went for a run and the weather is perfect right now for an outdoor run. Overall I think it is quite amazing how accustomed I have become to the culture already.

February 1, 2013

I flew from cold Chicago to London, and from London to the warm Island of Cyprus! Stepping out of the airport everyone was excited with the warmth and fresh air. During the plane rides and bus rides many of us were able to become friends quickly. We all found out how well we got along and became really excited for the semester ahead. Landing in Larnaka was incredible because we got to see the coastline as well as mountain ranges in the distance; it was all very beautiful. The apartments are in the most perfect area. They are two blocks from campus, and there is a mall two blocks the other way and grocery stores and banks. Everything we need is right here for us! The rooms are large and have balconies where you can see mountains in the distance. My roommates finally arrived and it was nice to not be in an empty apartment anymore. The GLS group all went out to have a first drink together at a corner café to celebrate the adventures that are about to come.
Waking up on Friday was so nice with the warm sun beating down through the windows. Stepping outside to go grocery shopping we were all surprised at how warm the weather was. The sun felt really good after spending half a winter in the Midwest. I really enjoyed the grocery store there was lots of fresh fruit and vegetables, a small bakery, a deli, you could buy fresh fish, and fresh cheeses. I was surprised at how easily everyone can pick us out as Americans. In the grocery store if a person walks passed you they immediately speak in English. It is not very hard communicating here since most people I have met speak English very well, and if not well it's enough to understand each other with no problem.
Later Friday night a huge group of us, around 30, went to eat Meze. The restaurant was very nice and the food was never ending. We all ordered the small meze and two of us the vegetarian meze. The meal began with a lettuce salad with cucumbers, tomatoes, and feta. You then were to add oil and vinegar and lemon as well as the dressing. Next they brought out halloumi cheese which was fantastic, especially since I love my cheese. Thanks to my boyfriend's family all being Cypriot, I have learned a few tricks ahead of time on how to eat different foods. Squeezing lemon over the fried halloumi is delicious. They also brought out large mushrooms with lemon inside, french fries, pita bread with tahini and cucumber sauce. The waiter kept telling us to keep eating, keep eating! After the first few courses I was already getting full. More food came out including eggplant and peppers, then kabobs with lamb and pork and chicken. Liver also came, but I am not sure how many people enjoyed this. Just when everyone thought they had had the last course brought out it seemed as if more kept coming. The whole meal lasted about 2 hours. The wine was delicious; we ordered a dry red wine. The manger or owner I am assuming was serving us. He spoke English well and was very happy to help us with anything we needed. He was also the one who was pushing for us to eat more! The last course was dessert. It was like a small pastry with a type of cheese or something inside.
Saturday morning we woke up to take a tour of old Nicosia. It was very interesting to see how along the buffer zone between the North and South many houses and buildings are abandoned. The city was beautiful though with the old buildings with balconies and adorable front doors. Our tour guide was great as well with a nice sense of humor as she took us around. We saw an old Greek orthodox church that was quite small but very decorative. It was interesting to learn of how because they kiss their icons, which are like a portrait the paintings are so worn that no color is left on them. The tour guide also explained that those who went to the church would take pieces from the icons in hopes of good luck. The gold at the front of the church was incredible because it really added to the atmosphere of the church. As we toured the Cyprus museum I had a hard time comprehending the rich history of Cyprus. Being a small island they have been under different rulers for many many years. Many of the artifacts were so old, dating back to 2500 BC, which is very hard to imagine. Much of the statues and sculptures were based off of mythology so we saw Hercules, Aphrodite, Zeus and so forth.
Orientation filled up much of Monday as we learned about the history of Cyprus and the many conflicts they have with Turkey. After orientation many of us went for coffee at the local coffee shop. We sat outside on comfortable bean bag chairs and got to know each other even more. The atmosphere is really great. You can go to a restaurant or café and just sit there for hours sipping on your drink, talking, and relaxing. Life seems much less stressful here.
Later we had a GLS dinner at a nice restaurant about a 10 min walk from the apartments.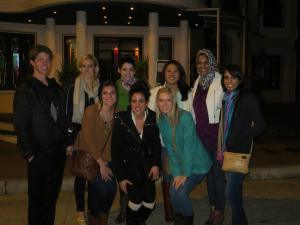 There was tons of great food! The food was laid out buffet style and included three types of salads, pastas, spinach lasagna, rolls, different meats, Greek potatoes and more. There were also coffee and different baked goods after dinner. I tried a mango bar which was very good; it was a very light dessert. Everyone ate, talked, and laughed. After, we all gathered at a local pub to get to know each other better. There we met a local named Sodos who was the bartender. He was the perfect example of a Cypriot. He told us here we should have no worries and that he would do his best to make sure we didn't have any. Sodos offered to stay open until 3 am next weekend just so we can all watch the Superbowl there since there are no TV's in our apartments. He also offered to play any kind of music we want, and was very accommodating. All of us are loving the island life and just waiting for the warm weather!!! It still gets pretty chilly at night and can be during the day as well. We are pretty excited for classes to start so we can meet more locals in order to have a more genuine Cypriot experience.
The rest of the first week has flown by! Thursday we had a Cypriot cooking class at the university and a scavenger hunt around the city and university after. Some of us went shopping downtown in Old Nicosia and we almost crossed over to the Turkish side on accident. There is a picture below of where the crossing is and if you aren't paying attention you can see why it is so easy to miss. The area really is not patrolled well and the only way we knew we were right on the border was because I saw a Turkish flag flying. Today (Friday) was a trip to Troodos Mountains.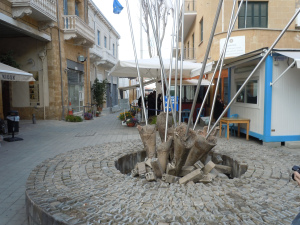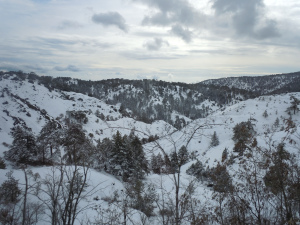 The drive was fairly short but very beautiful. The town was tiny with only a few shops and restaurants. After we stopped in a small town called Kakopetria and many people got lunch or walked around to see the old city and take pictures of different churches.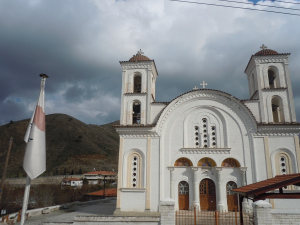 Over all I absolutely love Cyprus so far. Everything has been great from the food to the people and even the locals. I am looking forward to the rest of the adventures that are soon to come on the island as well as the warmer weather!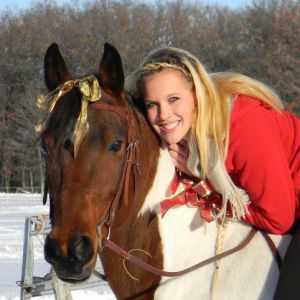 My name is Briel Kohl. I am a twenty year old junior at Upper Iowa University in the tiny town of Fayette, Iowa. I grew up in a small town in Wisconsin only to go to college in an even smaller town in Iowa. I am majoring in International business, accounting, and management. One day I hope to be part of a large international corporation. At the University I am part of Kappa Zeta Tau. Horses are a huge part of my life also. I grew up around them. When I am at home I usually spend all of my time riding and doing barn chores. I also spend a lot of time boating and taking part in different water sports as well as working out and running.
I am part of the women's soccer team at Upper Iowa, which I consider part of my family. I have played soccer since I was only four years old. I enjoy the traveling I do with my soccer team. However, I am extremely excited to travel outside of the states again. I caught the travel bug from one of my professors who inspired me to study abroad, and also from my cousin who has lived all over the world because of her modeling career. My professor took us to Germany this last spring. On top of Germany, I have also been to England and France. I am now excited to see Cyprus, which I have heard so many great things about! Over the next few months I am going to miss my family, horses and pets at home as well as my soccer team and roommates. However, I know this is going to be an amazing experience and I am excited to experience a new culture and make new friends!