CYPRUS: THE KEITH SHERWOOD EXPERIENCE
May 16, 2014
September 17, 2013
Greetings all from Nicosia, Cyprus! For those that skipped the specifics in my Bio, I will briefly introduce myself as Keith Sherwood, a junior from Denton, Texas who is double majoring in Psychology and English (which is a bit ironic, I suppose, to study in a foreign country).
I write this on a Monday night, a mere 6 days since I landed in Larnaca, Cyprus with my fellow blogger Kimberlyn Bennett (please refer to her Semester in Europe blog to hear about our flight; as a teaser I will reveal that it involves the pair of us running through the Heathrow airport as our plane closes, drunken seatmates, and a particularly badly timed baggage check. Here is the link: http://globalsemestersblog.wordpress.com/2013/09/17/international-travel-and-meze-cyprus/). For those that have not traveled internationally before, I hope this blog will serve as mirror in the respect that it is also my first trip outside of the states. For the more seasoned explorers, I am hoping that this will provide an inside glimpse at yet another wonderful world culture and perhaps a few laughs at the mistakes and realizations of an occasionally naive yet insatiably curious traveler.
Since this is also my first time professionally blogging, I believe I will follow the advice of Lewis Carol's Wonderland King when he advised Alice to "begin at the beginning… go on till you come to the end: then stop." For me this start is the cushioned seat of a Boing 777, in the dead center of a 9-seat aisle for a painstakingly long 9 hour flight to London; I believe I have never been happier or more fulfilled in my life. After almost a year of planning and talking about this trip, for the moment to arrive was an almost dreamlike experience. It is finally happening! It is here! No matter how many different ways I worded it, this was the thought that occupied my mind for the duration of my flights.
After the retrospectively noteworthy experience that was our trip to Cyprus (again refer to Kimberlyn's Blog) we landed around 9:00 p.m. Cypriot time, an entire 8 hours difference from my home state of Texas. Courtesy of our wonderful program advisors, we were able to arrange and find our minibus driver who was told to escort us to our apartments. Here I met my roommates for the semester, decided unpacking could wait until tomorrow (a credo I have kept throughout the past 6 days…) and promptly realized that jet lag is a bit more of an issue than I originally anticipated. With my mind whirling and my body in denial, a group of us went to eat out where I had the first of many first.
Culture shock. This is another term that you hear, similar to jet lag, in that you expect it to be easily overcome. "I can handle this," says you brain beforehand, and when confronted with the situation you realize that you perhaps drastically overestimated. For example, when met with an all empty stomach, a menu written entirely in Greek, and a chef who knows no English you realize three things simultaneously. One of those insights is that charades is perhaps the most underestimated game ever, the second is that you are not ever as good as charades as need to be, and the third being that in the end your stomach has the last word. This is how I found myself in a Cypriot restaurant, eating a food I couldn't pronounce at midnight with a group of people I barely knew. And again, I loved every moment. My week-long experience with studying abroad, having never met these or even similar challenges has shown me that there are times of disconnection, moments of absolute uncertainty that you briefly believe cannot be overcome, only to realize immediately afterwards that when placed in that position and with the right mindset you can truly overcome anything. That is how you grow through study abroad; this is how you grow as a person. A week here and I have grasped this concept more clearly than almost 20 years in the states. I can honestly say that I cannot imagine how the next 3 months will challenge and change me.
But enough of the introspection. 'What have you done so far, Keith?' you query from your computer. And the answer to that question is more than I have the time or will to write in this post, but I will give you the best overview that I can.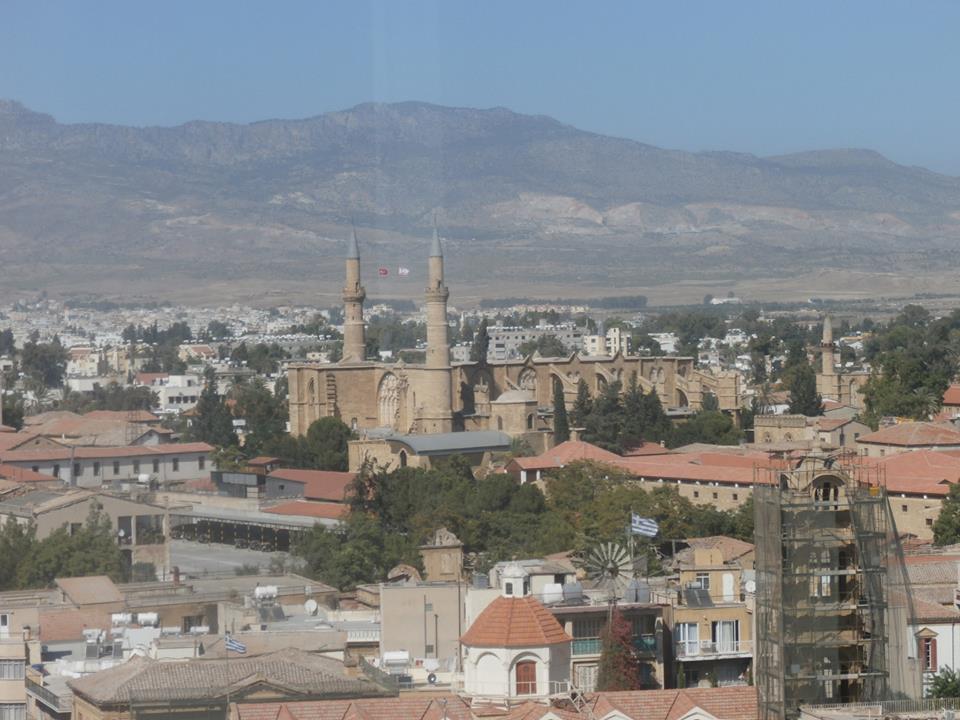 Speaking of Overviews, here is a view of the Old City in Nicosia taken from the 11th floor of an observation tower.
Due to the aforementioned jet lag, I have been uncharacteristically up at the earliest hours of the morning living Carpe Diem out in a way that would make the Latin language proud. I was treated to a wonderful tour of a Cypriot archaeological museum that showed me the rich cultural heritage of the island in ways that the internet, textbook pictures, or podcast can't describe. The tour guide walked us through the multiple ages, conquest, and owners of the island while showing us the similarities and differences and highlighting key events that shaped cultural perspective. Afterwards we took a walking tour of the Old City which screamed of foreignness in the same way that America screams of constant drunkenness (this is not my analogy, it was garnered from discussions with native Cypriots who absolutely don't understand the point of drinking to intoxication). The Old City is truly something to behold. The narrow streets and communal atmosphere are unique, and the shops that lined the streets begged me to stop at every turn. We wondered in and out of island historical landmarks that I would gladly spend entire days viewing within minutes. We brushing the surface of each one like a rushed paleontologist at a dig site, taking notice of the importance but not the time to be as careful or delve as deeply as we would like. I embraced my tourist label, taking pictures and looking as wide-eyed at every small thing that caught my attention, which was everything. From the shutter-doors to the gilded chapels, I made no distinction as to what I considered beautiful. It is truly a blessing to be presented with a different culture so far removed from your own. Everything about the sights revealed a deeper level of Cypriot heritage, and I felt the beginning of an entirely new thirst for knowledge that continues and will continue for the duration of this venture. One thing I noticed that is different from the area of Texas I live in is the amount of graffiti that paints the streets like art.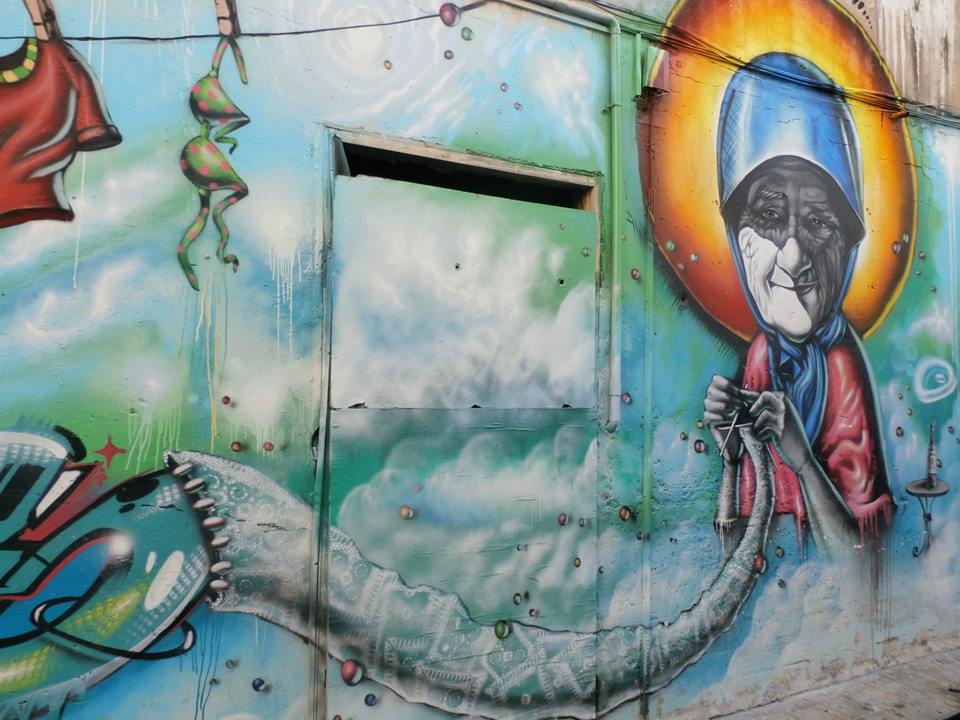 This is one of my favorite pieces. When viewing the whole wall you can clearly see some of the political comments that are felt by the Cypriot people as a whole.
Later in the week, we were treated to the traditional dish of Cypriot Meze, a feast of 10-30 dishes that give you a sample of the local cuisine. It is not an understatement to say that the 24 GLS students were not nearly able to finish our 12 course meal. Apparently marathon eating is also a sport that I underestimated and discovered I was not adequately prepared for.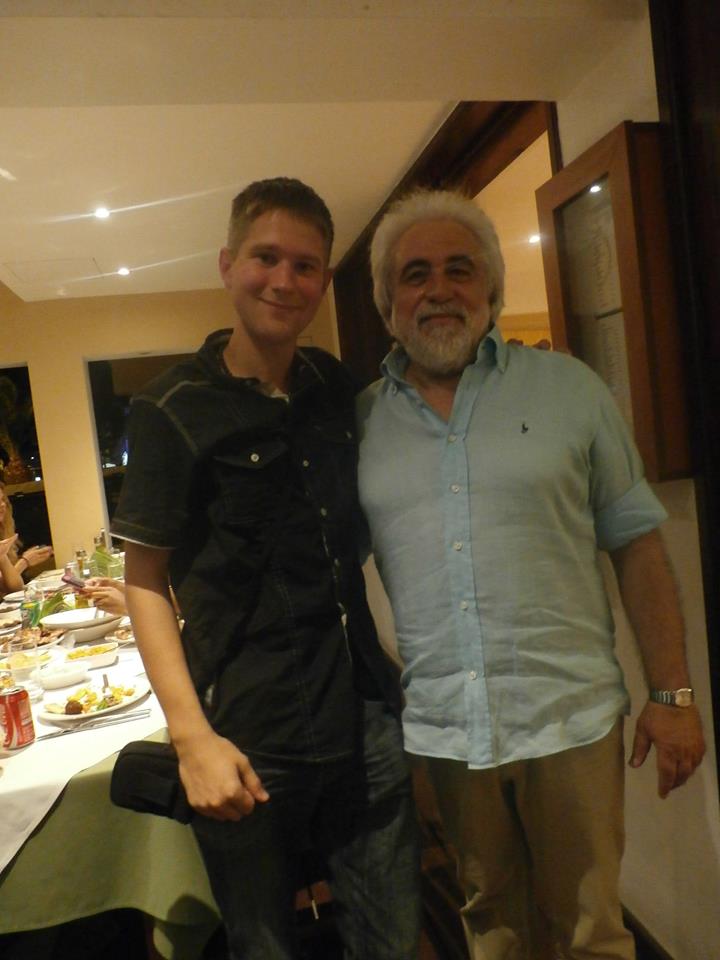 This was one of our servers for the night, one of the many nice locals
I have met upon whom I plan on returning to see.
At nights, I return to my apartment after whatever the day had stored for me, and relax with a group of people whom I look forward to spending the semester with. This experience has been truly an eye-opening undertaking in the short duration of time I have spent on the island. I leave for Italy in three days (hello jet lag my old friend). I will update soon with pictures of Milan (during fall fashion week!!), Cinque Terre, Florence and Rome. For now, I retire to my bed in the hopes of getting as much sleep as possible while the opportunity presents itself. Another lesson I have learned so far? Seize every opportunity you can because that is where the heart of life lives.