CONQUER IT, LOVE IT, AND RELAX
May 16, 2014
I lucked out this week. Semester in Europe program is traveling to Greece, Italy and Spain, so all GLS classes are cancelled. As it so happens, I only have one class that isn't GLS and it's only on Fridays. Looky who has a free week! It was perfectly placed because my half-marathon is this Sunday the 16th and I needed time to kick my body back into running shape (I say as I sit here eating bowls of granola and chocolate cereal). I've been away from Nicosia for most of this week running, getting lost, climbing things, exploring, biking and thoroughly enjoying it the entire time.
It started on Saturday when I hopped on the bus early in the morning to go to Larnaca. Larnaca has a salt lake (small compared to most lakes) which a person can run around. I decided to give it a try. On the very sunny, hot and humid day, I ran around that lake. It was the first time I had a chance to run in a rural setting here and it was so secluded and peaceful and it reminded me of running at home. But good grief it was hot, humid and salty. A ways into the run (which was longer than I expected) I said to myself "Of course you're dying, Michael. You chose to go for a run around a dead lake in a desert-like climate as a start to your training. Are you as clever now as you had thought?" I ended up in this small, far-off section of Larnaca because I couldn't find the main road and I sure wasn't going to run around looking for it. After wandering around lost, I found a supermarket (the size of a Byrne Dairy, really, but they call them supermarkets. They have Hypermarkets here, too! These things are the size of a typical Wegmans.) and the reception was nice enough to call a taxi for me. I must have appeared a little repulsive, an ugly American still sweating bullets, smelly and covered in an unusual amount of salt. You know, just doing my best to instill a good American impression in these people's minds. At least I was polite! Overall, the run made me feel great (with the exception of blisters on both feet from my shoes.). Luckily, there's only a small hump I have to get over in order to be in shape for running this half marathon.
Sunday I left for Paphos and I stayed until Tuesday evening. It's unfortunate that Paphos is the city furthest away from Nicosia (144 km), because it is now my favorite city. Paphos is the place to be. There are tons of things to do, see, buy and eat there. I went there because I had booked two trips through the Zephyros Adventure travel company. On Monday I went rock climbing and on Tuesday I went mountain biking. Best recreational decision I have made on Cyprus. By far.
Before Monday, I had never been rock climbing in my life. Real, legitimate rock climbing. On a massive, upheaved rock. In the middle of nowhere on the Akamas peninsula. I mean, as we were climbing a shepherd and his flock passed by, bells jingling. Lee said this is the real Cyprus. Up there in the hills. It really is. It was a momentous day for me for that reason and for one more; I'm terrified of heights. Yea, most people are, but if one were to ask me what my three greatest, obvious fears are, I would answer freefall, heights, and below the water's surface. I prevailed over my fear of heights that day, and I climbed five different routes on that rock face. There was fear and nervousness running through my veins the entire time. I don't know what it was that allowed me to overlook that fear, but I did it nonetheless. Maybe it was the comforting smell of numerous wild onions growing all around that helped. When I realized there were onions all about I wanted to scream with joy like Shia Labeouf and eat the onions whole, like apples, because I was on God's thumb. There was a small group of six of us, including the instructor, that climbed for four hours. My feet, fingers and forearms were exhausted after five full climbs (each climb was about 20 meters high). With all the fear and adrenaline in constant effect, I didn't even realize until we were nearly back in Paphos that I was starving, my bladder was full, and I was rightly exhausted. They said I did really well for my first climbing experience! I'll surely be climbing again. Here are some photos as proof that I climbed, showing you the beautiful view from where we were plus the instructor and another guy on the trip who had plenty of climbing experience, and a photo of the same guy showing off how it's really done!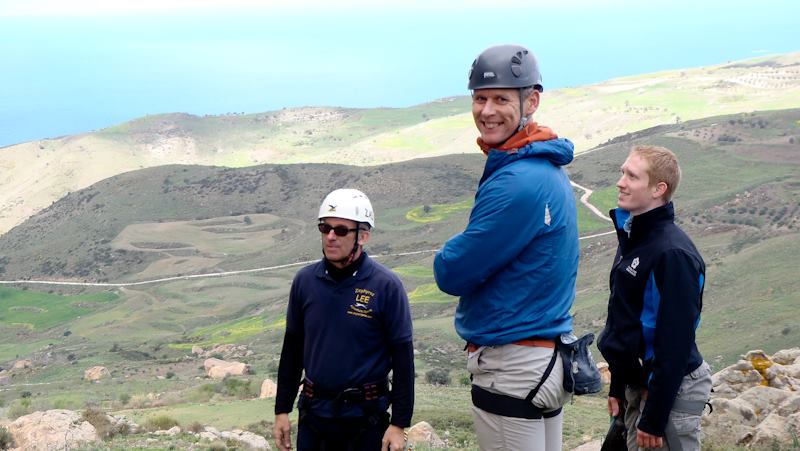 We were free by 2:30 and the instructor (I think it's time I told you his name is Lee) had offered me some nice ski pants for tomorrow's bike ride since it was supposed to be pretty cold for a portion of the ride and all I had were running shorts. So after I had lunch I went to the shop and got the pants. But just as I began walking back the most miraculous thing caught my eye. When I say miraculous, I mean it. It was marvelous, it was sensational, astounding, providential… it was fate! What did I see? I'll tell you I saw a restaurant with real Greek cuisine. I rushed over, crossing the street to look at their menu. Could they have them? Is it possible? Has my search finally ended? I looked and there they were. Zucchini balls, right on the hot appetizer menu. Oh, hallelujah! At the same time I found them the lovely waitress came out to greet me. I have no idea what the rest of the menu said; my heart, eyes and rationality stopped the moment zucchini balls re-entered the realm of possibility. I ate those zucchini balls with tzatziki sauce and like with the Gnocchi L'Inventiva my soul became ecstatic, buoyant and untroubled. Who needs alcohol when you have zucchini ball and tzatziki? I should add that when I was in Greece two and a half years ago I had zucchini balls and tzatziki for the first and only time. I fell deeply in love with them and I have been yearning for them ever since. I came to Cyprus and found that zucchini balls were not part of Cypriot cuisine. I, disappointed, stopped looking and booked a trip to Athens just to have zucchini balls again. What made my zucchini balls even better was the wonderful Greek waitress who actually loves Americans! We had a nice conversation, being that I was the only customer in at a too-late-for-lunch-but-too-early-for-dinner hour. They even treated me to a free 'dessert' afterwards of fresh and delicious sliced orange.
I spent the rest of the evening enjoying the mall there, called King's Avenue Mall. Very nice place that comforted me and made me feel at home. I even went to the theatre and saw a movie, 300: Rise of an Empire. The next morning we would leave at 8:15 to drive an hour and a half up to the top of Mount Olympus, the highest point of Cyprus, to bike the off-road trails all the way down!
If you want to see the beauty of Cyprus, go for a bike ride in the Troodos mountains. There were five of us including Lee and the man from the above photos. He also knew how to mountain bike. This strikingly beautiful ride wasn't just for flying down the mountain. It was to genuinely enjoy the place we were in. We would stop often to either check out some herbs or orchids Lee enthusiastically briefed us on, to learn about the mountains and area in general, or to receive further direction. We had a delicious provided lunch in this small mountain village. As we were biking in Lee said "Hey, there's the village's market!" and pointed to this tiny rambled shack that could have been a sheep shed. The entire Troodos mountain range is a massive national park very well preserved and mostly untouched. Just stunning, particularly when we stop at these secluded little waterfalls and climb the steps to the top to see nature at her best. Who needs alcohol when you have the endless forms of beauty taken by nature?
As we were riding I began to think I smelled curry. For the past few days I had been craving Indian cuisine and I figured my craving had just hit a new level. You're really craving something when your olfactory memory comes into play. I had to ignore it. But there it is again, a huge whiff of curry! And again and again and again… What? Soon enough we stopped, Lee went over to a small white patch of plant and said "Hey, here's some curry! Smell this, you guys!" Turns out curry grows naturally on the Troodos mountains! I picked some myself and stuffed it in my pocket to smell on my way home and on occasions like right now. It's a strong smell and it lasts.
One last hoorah in Paphos: as I was killing time waiting for the next Intercity bus to Nicosia, I came across this antique store. I love antique stores in Europe. They have the best stuff. As proof of my claim, I found and bought a giant metal peanut. It was a whopping 29 Euros, but so worth it because I love nuts.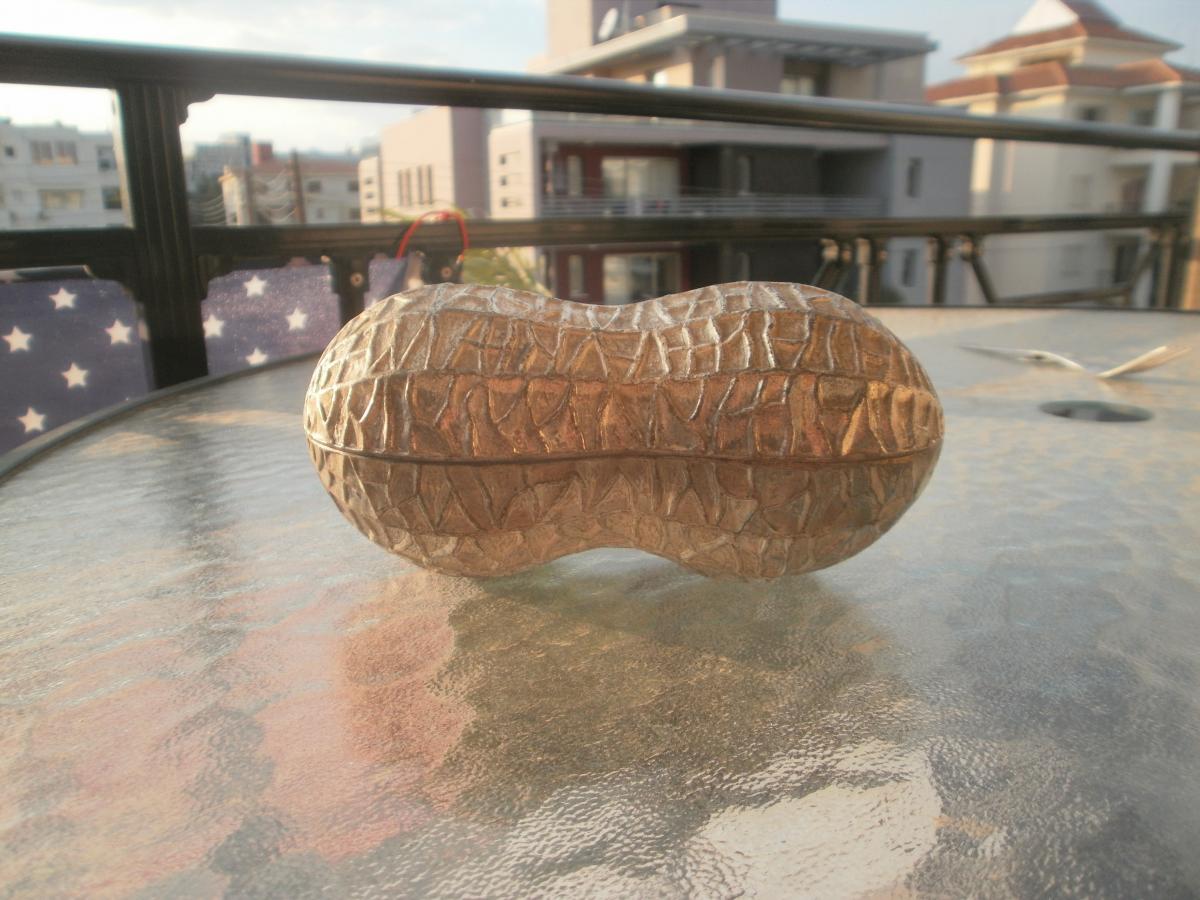 Then yesterday I went to Limassol to run and check out part of the trail I'll be running for my half marathon. It's all along the beach front, lined by trees and natural smells that remind me of running at home. A wonderful place to run 13 miles. It's all flat, too, so this will be a relaxing 13 miles. Afterwards I bought some curry powder. But of course I did! Wish me luck for the race! I'll tell you all about it next week.