CARNIVAL WEEKEND
May 16, 2014
This past weekend Global Learning Semesters (GLS) coordinators took us on an excursion to see Pafos and experience Carnival weekend in Limassol. Before we went to Pafos, however, we made to stops. The first stop was at Kolossi Castle. I must admit I did not get too much from the castle tour because it was too cold, and I came across an awesome white bird! I do not know what kind of bird it was, but I do know it was an awesome creature! It captured my attention for the majority of the 20 minutes I was at the castle.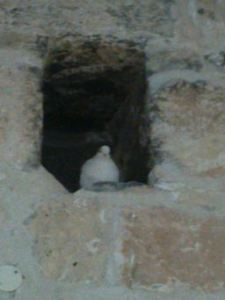 Afterwards, we went to Kourion. Kourion was a place of magnificence. Unfortunately, I must say I was a rebel and left the group and went self-exploring with a colleague. It was the best decision I made! Apparently due to our rebellion, we got to see places/views the others did not! So, although I missed out on the history, I did get some awesome pictures and have a lifelong view etched in my mind!

The next stop was Aphrodite's Birth Place. This little spot of the island is one unique place recommend that one go and see, if they ever have the opportunity. I have three reasons for my recommendation: (a) the spot is one of the most beautiful places on the island. (B) if you go after midnight, swim nude from rock to rock; you will become more beautiful (mythical legend). (C) The view is absolutely amazing!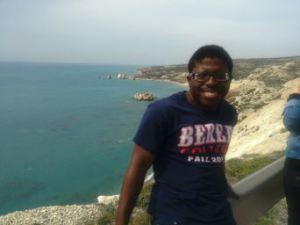 When we got to Pafos, we was allowed to eat lunch. I, however, was not hungry. I just strolled on the bay and enjoyed listening to the ocean waves. When I was done meditating, I had to leave with the group to tour the Mosaics. While the group and I was walking, we ran into two pink Pelicans that was literally almost my height!! They was huge! But, they were very interesting to see and were actually quite funny to watch! I enjoyed seeing them. I hope I have the pleasure of coming across more Pelicans while I am abroad. I was not really interested in the mosaics, but I did enjoy the walk and the company!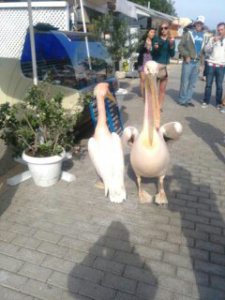 When we finally got to Limassol, I was tired and so, I tucked in, watched BBC News, and went to bed at 8Pm! On Sunday (the next day), the Carnival Parade took place. Now, I planned to just go and take pictures; this was not to be. What was supposed to be a picture day, turned into a day of GLS action! I ended up being in the parade in the middle of the street, with the other GLS students (who had bought costumes), with no costume, being gawked at by a minimum of 10,000 people. I must say as awkward as it was I enjoyed it! I must add this was all of the students fault, the coordinators had no partake in this madness! The parade seemed to go on about 3-5 miles down the road, which is intense when your not prepared! But, at the end of the day, it was a blessed day and I got to experience a different culture's Mardi Gras! So, who am I to complain.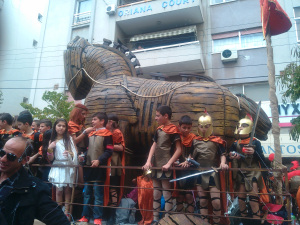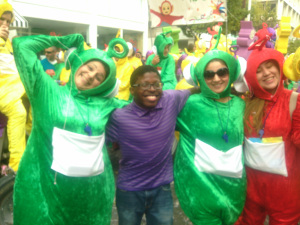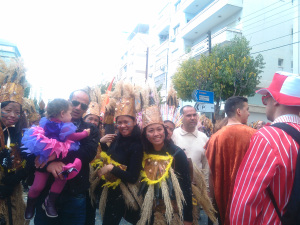 Stay tuned, I am leaving Saturday to Athens, Venice, Florence, and Rome. I will be on the road for 8 days! So, you definitely do not want to miss those adventures!!
Until Next Time Toodles,
Thomas